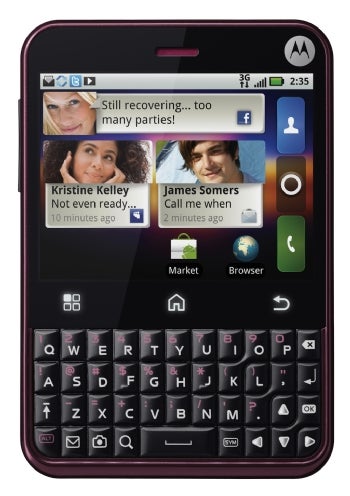 Our collective obsession with social networking is more than apparent, but do we really need a smartphone devoted to it? If you're not one of the 503 people who bought Microsoft's Kin, you're probably thinking no — there are plenty of apps for that. Yet the newly announced Motorola Charm appears to share the Kin's focus, which could also be its downfall.
The Motorola Charm is a new T-Mobile-exclusive Android-powered smartphone that's geared towards Facebook addicts. The Charm features an enhanced version of Motoblur (Motorola's personalized aggregation of social networks) built on Android 2.1. Here are some of its more Charm-ing specs:
Full QWERTY keyboard
Backtrack navigation pad (like a laptop touch panel on the back of the device)
Flash Lite-enabled Web browsing
The Google suite (Search, Maps, Gmail, etc.)
Pinch-to-zoom screen and two-finger swipe navigation
3MP camera
Second microphone for background noise filtering
Pricing and availability were not disclosed, though the Motorola press release says the Charm will come out this summer.
At first glance, the Charm looks like a one-trick pony. However, unlike the Kin, the Charm has access to the thousands of Android apps, which will be its saving grace … but how well will those apps run on the Charm's little 2.8-inch touchscreen?
Motorola designed the Charm with a particular — and perhaps narrow — angle in mind, just like Microsoft did. We'll see if this niche phone can hold its own, or if it experiences the same mortification as the worst phone ever.