After teasing gamers that today would be "a great day for BioWare fans," the company responsible for chatty roleplaying epics like Dragon Age and Mass Effect 2 has officially trotted out preliminary details on Dragon Age 2.
The new site's predictably skeletal, just some vaguely Asian-Nordic looking guy clad in pointy greaves, gloves, and boots, grasping a sword-spear weapon in front of a dragon rising phoenix-like behind a crowd of silhouettes (The people you'll encounter? A doubled or tripled array of potential party members?)
"Rise to power…by any means necessary," teases the site, just below a note indicating the debut trailer won't be out until August 17. (Kind of early to announce, then, given the month lead on video–I guess that's how marketing keeps "exclusive"-subsidized print mags like Game Informer happy.)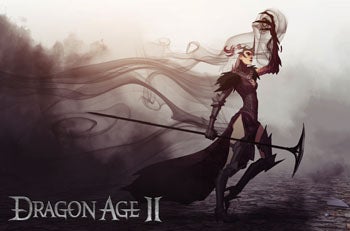 "You are one of the few who escaped the destruction of your home," reads the indeterminate, spoiler-free game overview. "Now, forced to fight for survival in an ever-changing world, you must gather the deadliest of allies, amass fame and fortune, and seal your place in history.
"This is the story of how the world changed forever. The legend of your Rise to Power begins now."
That last could double as a tagline for Lionhead's Fable III, another ethically mercurial fantasy romp with a "rise to power" angle.
The Fable III similarities continue: Dragon Age 2's timeframe occurs "across an entire decade," and changing based on "every decision you make." You'll evolve "from a destitute refugee" to "the revered champion of the land." (In Fable III, you "rally and fight alongside your people," "ascend to the seat of power," and "the choices you make will change the world around you.")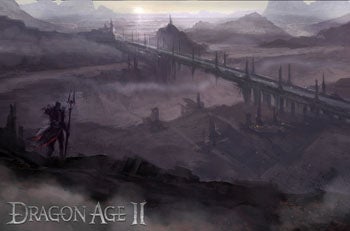 "Think like a general and fight like a Spartan with dynamic new combat mechanics that put you right in the heart of battle whether you are a mage, rogue, or warrior," reads the one combat-related bullet point. Let's hope the push to "put you right in the heart" of things doesn't translate as a button-mashy "lowest-common-denominator" makeover.
What else? "An entirely new cinematic experience," "updated graphics," and "a new visual style." Judging from the concept art (the female with the Witchblade-y arm-thing in particular) perhaps the latter implies a stylized animation or cel-shaded look?
All that, not coming soon. With the debut trailer delayed until mid-August, we're probably talking 2011 at the earliest.
Follow me on Twitter (@game_on)