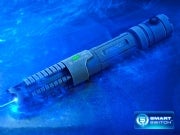 Everyone has wanted a light saber at some point. Well, keep dreaming, it's not going to happen. However, if you're interested in a laser shaped like a light saber, you're in luck. Wicked Lasers has recently released the Spyder III Pro Arctic laser. Not only does it feature a 1-watt laser that is capable of causing blindness and (under continuous exposure) setting someone's skin on fire, it also looks like the Jedi weapon we all know and love.
Lucasfilm Ltd., however, does not appreciate the similar design, and wrote a cease-and-desist letter to Wicked Lasers, claiming that the similarity constitutes copyright infringement. DailyTech reports that Wicked Lasers CEO Steve Liu responded by saying, "Most people would feel it's kind of ridiculous…We would never use any comparison like that to 'Star Wars' or a lightsaber or anything like that." So far it looks like the company won't be making any changes, so we will have to wait and see the response from Lucasfilm's legal team.
The Arctic has a 445nm wavelength, ultra high power and 1W blue beam. Wicked Lasers states it is "the most dangerous laser ever created" (DailyTech notes that Wicked Lasers made some tweaks to make it somewhat safer, but use it at your own risk). This is a completely different class from those red laser pointers, which have less than a 630nm wavelength and an output power of less than 5mW. The Arctic is 4000% brighter than their previous model, the 200mW Sonar. At $197.97, it's quite a hefty price tag for something that has little application in your everyday life.
Can anyone think of a non-destructive use for this laser? The list of things I would want to do with it range from "totally illegal" to "legal gray area." Does Lucas have a right to be upset? I do admit, it does resemble a lightsaber, but in the right light, so does my flashlight.
[via DailyTech]