It's hard to make a splash in the world of storage, but Netgear aims to do that with its new ReadyNAS Ultra series of network-attached storage. After spending some time with the unit at Netgear's launch event, I'll admit Netgear's latest has grabbed my attention–but not necessarily for any of the obvious reasons.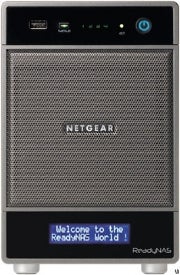 The ReadyNAS Ultra and Ultra Plus series both pack in a laundry list of specs and features I've come to expect of a top-tier network-attached storage manufacturer. Like many of Netgear's competitors (Synology and Qnap among them), the ReadyNAS Ultra and Ultra Plus lines both feature Intel CPUs inside to boost performance; single-core Atom, dual-core Atom, and even dual-core Pentium are all represented at various configuration points. Both support the usual complement of media serving (iTunes server, BitTorrent), DLNA streaming, Orb's software for remotely accessing content, and Netgear's client software for remote drag-and-drop navigation. Both support up to 2TB hard drives today, and will support 3TB when they come out (they'll even support next-gen drives using long-data block, or 4K, formatting). And, both series support Netgear's X-RAID technology for dynamically expanding the box's overall capacity.
Where Netgear takes storage to a new plane has nothing to do with any of the above.
Instead, Netgear reinvents the role of network storage through its pairing with TiVo. By allowing a TiVo to use the additional storage of the ReadyNAS Ultra, Netgear has busted wide-open a heretofore strict, and senseless limitation that has constrained the concept of a locally-based home entertainment network. And it frees network storage to be a complement for a device in a new, fresh, and wholly needed way.
Let's rewind for a moment. Sharing music, photos, user-generated videos across a network is neither new nor difficult. But how many times have you looked at your DVR and lamented that you had to delete one thing to make room for another? I've heard tale of epic family battles, not far off from those clever commercials, started over the question of whose content gets cut first from the DVR. Or maybe you're like me, something of an completist who'd prefer to archive content over the long haul (yes, I'd have liked to retained Nastia Liukin's picture-perfect gold medal finish at the 2008 Beijing Olympics on the same device as every gymnastics competition she or teammates appeared in for the four years before and for ensuing four years in the runup to London 2012).
Yeah, right–a Comcast DVR couldn't even handle keeping more than 20 hours of high-def video, let alone hours and hours of content intended for the long-haul. Even a top-of-the-line TiVo with a 1TB drive inside would run into a brick wall with aforementioned scenario; sure, those units could expand with a direct-attached hard drive, such as those from Western Digital, but that additional drive, by design, created a single storage volume with the drive inside the TiVo unit. That meant you'd still, eventually, run out of room and out of options. And for those who favor the theory that cloud-based services will negate the need for a consumer built-library of personal faves, well, such services remain elusive, and are not a replacement for the immediate capture and retention of televised content.
The holy grail among DVRs has been finding a way to offload the content one wants to hold. And with the Netgear ReadyNAS Ultra and TiVo, TV lovers finally have a way to do so. It's even plausible to attach another USB drive to dangle off of the ReadyNAS Ultra, which opens up the concept of developing content libraries on separate hard drives, for example one devoted to season-after-season of NCIS, another devoted to all things sci-fi, and a third just for gymnastics competitions.
Mark content to be saved on any network-connected TiVo, and it gets transferred to the Netgear device; like programs are grouped together, just as you find on the TiVo box itself. Right now, the only way you can view the content you save is via the Netgear ReadyNAS Ultra series. But the content can be independently maneuvered; meaning, you can copy it to another hard drive for extra safeguarding, or can move it to another drive and use that drive as a storage extension of the Ultra.
The concept of a centralized entertainment hub with locally-stored content accessible via a home network has always been stymied from the start. The idea was hard to fathom if the content was tied to a specific device, with no way of moving the content from one media to another, and no way to do a bonafide backup of that data.
The ReadyNAS Ultra is a first salvo in trying to open up this highly constrained world. Here's hoping that the next step is getting cable, satellite, and teleco providers to provide similar expansion opportunities in conjunction with storage makers.
And, here's hoping that prices can come out of the stratosphere, too. The ReadyNAS Ultra series, available with and without disk drives this month, will cost $600 for a four-bay unit, and $900 for the six-bay unit.
Premiere XL
Price When Reviewed:
$299