Tired of your bland plain text Gmail signature? Want to spice it up with your company logo and some bold formatting? Google has done you right — now Gmail signatures support rich text format. Here's how you can transform your contact information into an eye-catcher:
Sign into your Gmail account
Access the "Settings" page from the top right-hand corner
Halfway down the page you'll see the "Signature" section
Experiment with photos, hyperlinks, fonts, text sizes, colors, etc.
Be sure to click "Save Changes" at the bottom of the page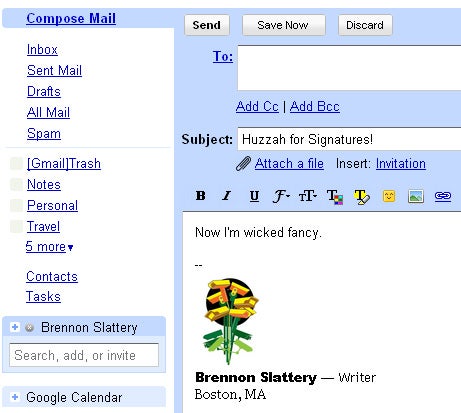 As long as your Gmail signature is turned on, your rich text creation will be appended to the bottom of all outgoing messages. (Click on the image for a closer look.)
If you have multiple Gmail accounts, you can customize signatures for each individual account — the ideal way to separate business and pleasure. To find out more about combining your Gmail addresses, check out Google's help page.

Road warriors beware: rich text signatures are currently not supported in the mobile version of Gmail. You'll have to connect with the latest desktop version of Gmail.
Also, older versions and the HTML version of Gmail are also not supported. Of course, you can always suggest it.