The problem with Apple's iPhone 4 Facetime commercial is that not everyone has an iPhone 4, and that's just not happening. Fortunately there's Fring, which now allows video calls to PCs and other phones, over a 3G connection to boot.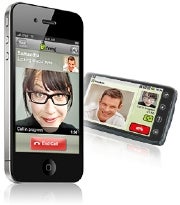 Fring is a free VoIP and video calling service, letting you make free calls to anyone who also has the Fring software. Through a robust set of add-ons, Fring can also connect to Skype and Gtalk, among other services.
So if you've got Skype on a PC, you can talk via Webcam to someone with Fring on the iPhone 4. Android and iPhone users can incorporate video into their spirited debates on platform superiority. Apple's native Facetime video chat app can place calls only between two iPhone 4s, for now at least. Facetime is an open standard, but we'll have to see if any other platforms support it.
And then there's the 3G support. Right now, Facetime only allows video calls over Wi-Fi, and that's not going to change until next year. If iPhone 4 owners want to video call someone from the ballgame or the bar, Fring's their only option.
Which begs the question: Why did Apple and AT&T allow this bandwidth-eating Fring update to hit the App Store? My worst guess is that the danger of excessive bandwidth consumption isn't as steep with Fring simply because it's not loaded onto the phone by default.
More likely, I think, is that Fring doesn't pose a great 3G threat because the call quality doesn't match Facetime. I haven't tried it myself, but as Gizmodo notes, Fring is prone to lag, jitters and drops in voice quality. A Twitter search for "Fring quality" turns up similar remarks. I'm just speculating, but perhaps Fring doesn't demand as much data as Facetime.
And that's fine. As a free app that goes where Facetime won't, Fring doesn't need to be perfect. It just has to work.