YouTube's new Leanback service aims to become a fixture on your television by letting you watch an uninterrupted stream of full-screen YouTube videos in high definition. The beta service decides what to show you based on your YouTube account preferences, and you can use Leanback to watch your YouTube movie rentals obtained through the new YouTube Store. Leanback also offers a number of different video feeds organized by category if you get tired of the initial personalized video stream Leanback offers by default.
Here's a quick look at the new Leanback service from YouTube:
Getting Started
Google says Leanback is meant to be used on large screens like your television so you might want to try this out on a larger screen like your Internet-capable television. To start using Leanback, point your Web browser to youtube.com/leanback. If you're not logged into the site with your YouTube or Google account, you will be prompted to sign in before you can start watching videos. If you don't have a YouTube account, you can create one from the sign-in page, and you must have a YouTube account to use the service.
All About the Keyboard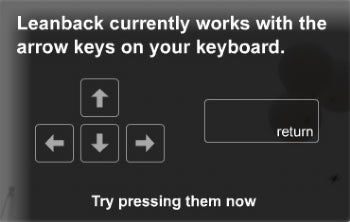 You can set your mouse aside for the moment, because Leanback depends exclusively on your keyboard's directional arrows and the return key to navigate through the new service. If you try to use your mouse, you'll be greeted with the above message.
One tap of the up arrow displays Leanback's search option, hitting the down key once shows you Leanback's playback controls, and a second strike of the down key reveals a filmstrip of all the videos in your current Leanback queue.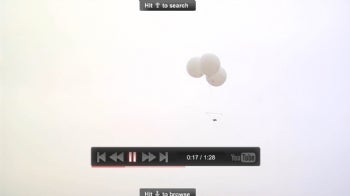 When you have the playback controls on screen, you use the right and left arrows to navigate through the various controls like rewind, play/pause, and fast forward, and you hit "enter" to select the control you want. If you're getting tired of the video you're viewing, you can also use the right and left arrows to move through your Leanback queue. To sort through the entire queue without switching to the next video, first bring up the filmstrip using the down arrow and then navigate to the left or right. Just like on YouTube, hitting the spacebar will pause the video you're watching.
Content
By default, Leanback's content uses what YouTube calls Your Feed to create a queue of videos for you to watch. Your Feed is based on your YouTube subscriptions and past videos you've watched. If you've linked your Facebook account to your YouTube ID, then Your Feed will also include YouTube videos your Facebook friends have shared. In my experience, my feed included a few videos I'd already seen, so just like with real television you may find some repeats mixed in with newer videos.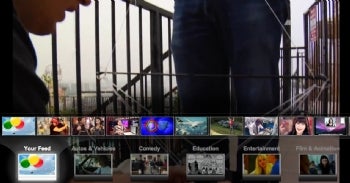 If you get tired of the video choices in Your Feed, just press the down key until you see a horizontal list of different video feeds organized by subject. Leanback has a number of different video categories, including sports, science & technology, film & animation, YouTube movie rentals, how-to videos, and others; for example, cat lovers can check out the Pets & Animals feed. Any YouTube playlists you've created are also included as separate video feeds in this section as are your past searches on Leanback.
Most of the videos Leanback shows you are fairly good quality and should look fine on your television set. Nevertheless, this is YouTube — so expect to see a few low-quality images in the mix, especially when viewing videos contained in Your Feed and when using the search feature.
YouTube Leanback vs. Clicker
At first glance, Leanback appears to have some similarities to Clicker.tv, a Website dedicated to helping you discover online video content.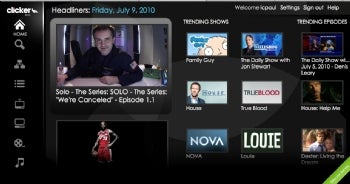 Both services are trying to create a better viewing experience for Web-based videos and both offer a slick, full-screen experience. But that's where the similarities end. Unlike Leanback, Clicker is focused on delivering premium content including television episodes, movies, and Webisodes such as ABC's Lost: Untangled. Clicker also directs you to content on other sites and services including Netflix, Amazon VOD and network television sites such as ABC.com.
YouTube's Leanback, meanwhile, is only for YouTube content and that's it. So while you may look at Leanback and be reminded of Clicker's interface, the two sites really function as complements to each other. You can search for YouTube content on Clicker.tv if you want to, but if you want the complete YouTube experience, then Leanback is really the better choice.
Leanback is just the latest attempt by Google to bring online video into the living room. In 2009, the site introduced YouTube XL, a version of the regular YouTube site optimized for your living room television. Later this year, Google will launch Google TV, an Android-based platform baked into set-top boxes and Internet-connected TVs that is meant to merge the Web and regular television.
Connect with Ian on Twitter (@ianpaul).