For all of Google's tough talk on China, the market was just too alluring to avoid.
On Friday, China renewed Google's Internet Content Provider license, meaning the Google.cn domain will stay alive for at least another year. But getting China's approval required a concession: Google may no longer redirect people to its uncensored Hong Kong site, as the company was doing since March.
Instead, Google.cn includes a home page link to the Hong Kong site and a search bar that's restricted to music, products and translation. By not including Web search, Google.cn avoids censorship while giving people the option of unfiltered search through Google.hk.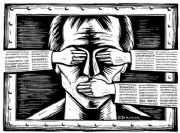 Of course, China can still filter or block certain Web searches through the Hong Kong site, as Piper Jaffray analyst Gene Munster discovered last month, but the compromise keeps the onus of censorship off Google, neutralizing the company's previous threats to leave the country altogether. Other search engines, such as Bing and Yahoo, censor searches in accordance with Chinese law.
What does all this mean if you're living filter-free in America? Directly, it means nothing. But as Paul La Monica points out at CNN Money, Google stocks are down 30 percent this year, and China is the world's largest market. Put two and two together, and you can see why Google might have to get a little bit evil — just a little bit — to swing its fortunes back around. And I don't think that's exclusive to China.
Maybe I'm reaching, but let's look at Google Buzz as an example. This was Google's (second) attempt at social networking, introduced at a time when Facebook was emerging as an advertising threat. But Google got overzealous and took too many liberties with auto-following contacts in Gmail. Perhaps it was just a failure to recognize what users want, but maybe the company was too desperate to jump on the social network bandwagon, even if it meant burning a few users along the way.
Now, I'm not saying Google Buzz was developed with bad intentions. Likewise, in China, Google has a legitimate reason to stay: It's better to offer Google services – warts, filters and all — than to cut China's population off completely. But as Computerworld's Mitch Wagner noted, sometimes doing the right thing means breaking the law, or pulling back from a morally questionable market. Google's not willing to do either.