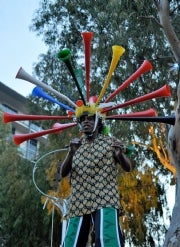 The World Cup breakout stars in 2010 include Puyol, Donovan, Mueller, and The Psychic Octopus. But there's no bigger phenomenon in South Africa this summer than that obnoxious plastic horn, the vuvuzela.
No matter who you're rooting for in this weekend's final match (Spain vs. The Netherlands, in case you forgot), a vuvuzela is a must-have accessory for any viewing party.
Amazon hasn't delivered the real thing yet? No problem–plenty of virtual Vuvuzela apps are out there.
For this round-up, I checked out only free vuvuzela apps. Also, I checked out only apps for Android and the iPhone, but I know there are a few for BlackBerry and webOS phones as well.
Finally, a warning: Your friends and family may disown you after a few rounds of virtual vuvuzela-ing. Here's why. Take a listen.
iPhone Apps
Africa Horn and Rattle: If you want to add some diversity to your cheering, try this app. With this Horn and Rattle app, as the name implies, you can play a virtual rattle, an air horn, and a vuvuzela. You can also customize your instruments with colors, including a couple that none of the teams seem to have (which team has the pastel purple jersey–anyone know?). This app is on the quiet side, however, and we all know that louder equals better.
PocketVuvuzela: A truly international app, PocketVuvuzela can be viewed in English, Portuguese, and Spanish. In the settings menu, you can also choose from four different, surprisingly realistic vuvuzela sounds. As with the other apps, you can customize your vuvu with your team colors of choice. To play the vuvuzela, you're supposed to tap the soccer ball icon, shake your phone, or blow into your phone's microphone. Unfortunately, despite all these extra features, this app completely fails–it didn't work! What's the point of a vuvuzela app if you can't get it to make any noise?
Vuvuzela 2010: Simple name, simple application. First, you pick a color for your vuvuzela. You'll have to know your favorite team's colors, though, because they aren't labeled in the app (it just displays blank jerseys of various colors). Also, you can only choose from ten team colors, so tough luck if your favorite team isn't included. To unleash the vuvuzela sound, you can either continuously tap the vuvuzela icon or shake your phone. Doing this gets tiresome, though, and this vuvuzela sounds more like an air horn than the real thing. On the bright side, Vuvuzela 2010 is the loudest out of all the ones I tested.
Android Apps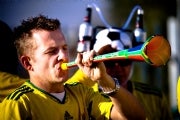 Olandroid Vuvuzela Concert: The most amusing of the free Android vuvuzela apps, Vuvuzela Concert lets you pick from Damn Vuvuzela! Annoying Vuvuzela! And #*!@%@ Vuvuzela!!! sounds. Weirdly, none of them sound like actual vuvuzelas, but more like car horns. You can play them all simultaneously though, which is sufficiently obnoxious.
Vuvuzela by Jasper de Keizjer: By far the simplist (not to mention the least attractive) of all the apps, Jasper de Keizjer's Vuvuzela scores points for sounding the most realistic of all the apps I tested. It is also pretty darn loud and sure to annoy everybody around you.
Vuvuzela by Moonbeam Development: This app is pretty similar to the other vuvuzelas in this roundup. You can pick your horn's color, then tap to play it. The interface is pretty crude, but even worse, the noise that comes out sounds nothing like a vuvuzela! Sure, it's loud and obnoxious, but I just can't recommend this app.
Our Favorite Phone App
Virtual Vuvuzela (for Android or iPhone): This app is similar to Vuvuzela 2010 for the iPhone, but has a much bigger selection of team colors to pick from. Again, you can either tap or shake to play your Virtual Vuvuzela. The sound is much closer to that of a real-life vuvuzela than most apps make but is a bit on the quiet side.
Web Apps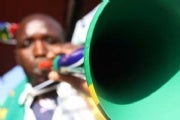 If you don't own a smartphone, you can still get in on the vuvuzela madness with your PC. Pretend you're actually at the World Cup as you peruse scores on FIFA.com by attaching http://www.vuvuzela-time.co.uk/ to the front of the URL (this will work with any site).
A vuvuzela-playing chap will appear in the right-hand corner of the page, adding a touch of authenticity to your browsing.
Got a favorite vuvuzela app? Sick of the World Cup? Sound off in the comments below.