NTP, still sailing on a tide of confidence after a $612.5 million patent infringement lawsuit victory over , has now set its sights on the rest of the mobile phone industry: Apple, Google, HTC Corp., LG Electronics Corp., Microsoft and Motorola. The company filed lawsuits against all six mobile phone and tech giants today in federal court in Richmond, Va., for using its email technology patent without permission.
"Use of NTP's intellectual property without a license is just plain unfair to NTP and its licensees," company co-founder Donald E. Stout said in the Wall Street Journal. "We took the necessary action to protect our intellectual property."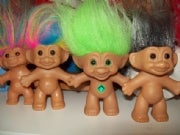 Although often labeled a "patent troll," NTP is a privately held company that was co-founded by inventor Thomas Campana to hold the 50 technology patents he developed throughout his career. NTP, which doesn't make any products, calls its founder "the inventor of wireless email." NTP is also in the middle of patent lawsuits against wireless providers AT&T, Deutsche Telekom, T-Mobile USA, Sprint Nextel Corp., and Verizon Communications Inc. and Vodafone Group PLC's Verizon Wireless. NTP is also known to aggressively demand licenses and threaten lawsuits, according to the New York Times. Although many companies are skirting around NTP's patent, insiders say it's likely to profit in the hundreds of millions in its newest lawsuit.
Others say that NTP may have met its match in tech giants Google, Apple and Microsoft, whose deep pockets (easily $100 billion between them, according to MarketWatch) could bury the company in paperwork for decades. To add more weight to his argument, NTP's lawsuit against Palm, which was recently acquired by Hewlett-Packard Co., has stalled likely because of HP's finances and legal team.
The lawsuit battle certainly looks costly, and the holding company would rather gamble away its profits on a bigger payday (Really? You think you can do better than $612.5 million? Really?) than hold steady, so this lawsuit is unlikely to be settled out of court. Perhaps the only way that NTP will go away is if the companies decide to pay it off, or a company like Google decides to just buy the firm and save the emerging tech world some legal headaches.