Smartphones are getting smarter every day, but a built-in Pico projector is the smartest addition to a cell phone so far, especially for any company that provides instructor-led training, product demos, or sales presentations. Imagine showing up at a conference with your company's sales demo, armed with a pocket-sized device that projects a 50-inch presentation onto the wall. That's cool and efficient.
The phone is from Samsung and it's branded the Galaxy Beam (model GT-I8520). It's Android-based, which means access to over 50,000 applications.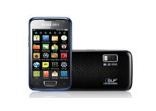 The Galaxy Beam is scheduled for release to StarHub customers in Singapore July 17, but Samsung has not yet announced a release date or prices for the United States.
There are other comparable phones, such as the Motorola Droid X and the HTC EVO 4G, and there are other pocket-size projectors, such as the Pico PK102 from Optoma Technology for around $220, 3M's MPro120 for about $245, and the $350 WowWee Cinemin Swivel–an Apple accessory.
The primary benefit of the Galaxy Beam is the marriage of the projector and phone. But the camera, HD recording, Internet access, and GPS also make it unique
In addition to the projector, which has a viewing size of five to 50 inches, the Galaxy Beam comes equipped with an 8MP camera with autofocus and flash, plus a front-facing VGA camera, and HD video recording. It touts a 3.7 inch WVGA super AMOLED touch display, 16GB of internal memory with an additional 32GB through the microSD card slot, and an 1800 mAh battery, which means seven hours talk time and 530 hours standby.
And, of course, it has the standard communications features: Bluetooth 3.0, Wi-Fi 802.11 b/g/n, wireless Internet tethering, a USB 2.0 port, and GPS plus, as a bonus, TV out and an FM radio. It has a comfortable pocket size and weighs only 155 grams.
If your organization has been reviewing the next generation of smartphones for a future company-wide purchase, this projector feature may be worth waiting for.