An estimated one billion of us will be watching the FIFA World Cup soccer final come Sunday. In a nod to the sport that's captivated the world for the past month with its athlethes' fancy footwork and goal-scoring head shots, its referees' bad calls, and its rabid audience's ear-splitting, vuvuzela-fueled enthusiasm, take a look at the T001 Soccer Jersey USB flash drives from Adata.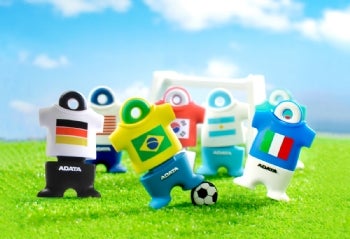 The durable, rubberized drives feature the national flag of represented countries, and pack in 4GB of flash for about $15. Each drive has a loop for a lanyard. Like the Star Wars flash drives from Mimoco, Adata supplies a bevy of entertaining wallpapers starring these little guys.
Ironically, even though Adata has many football (er, soccer for U.S. readers) powerhouses represented–including Argentina, Brazil, and Germany–neither Spain nor the Netherlands, the two teams duking it out this weekend, are in the mix. Other countries available now: Italy, Korea, Mexico, and the United States. Maybe after this weekend, Adata will need to expand its lineup to include the new winner, too.