The immediate future looks bright for Motorola's new Droid X smartphone, which is scheduled for release this Thursday, July 15 on Verizon Wireless' 3G network. This b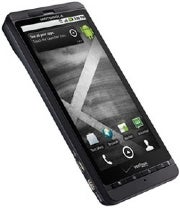 ig and brawny Android handset is benefitting from early reviews praising its beautiful 4.3-inch display, impressive multimedia features, and relatively long battery life versus comparable phones.
While it's unlikely that initial Droid X sales will match the iPhone 4's staggering success–specifically, 1.7 million units sold within three days of launch–early signs show strong consumer interest in Motorola's new phone. Best Buy has already started and stopped two rounds of pre-orders for the Droid X, and the retailer won't guarantee that customers who preordered will get their phone on launch day. Verizon Wireless has said it expects inventory shortages as well.
iPhone 4 Criticism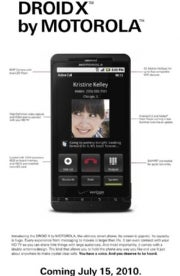 A recent batch of news stories critical of the iPhone 4 may boost Droid X sales too. Verizon Wireless recently reworked its prelaunch marketing campaign for the new phone, capitalizing on persistent reports that the iPhone 4's antenna design leads to reception problems if a user holds the device in a certain way.
On June 30, Verizon ran a full-page ad in the New York Times that pokes fun at the iPhone 4 antenna controversy. The ad touts the Droid X's "double antenna design," adding that the Motorola phone "allows you to hold the phone any way you like and use it just about anywhere to make crystal clear calls." (Click on the image to see the full ad.)
Android Rising
Another development that bodes well for the Droid X is the emergence of Google's Android OS as a major player in the smartphone market. Android's mobile market share mushroomed by 44 percent from February to May 2010, according to a report released Thursday by marketing research firm Comscore. Android's share of the U.S. smartphone pie jumped from 9 percent in February to 13 percent in May.
Translation: There's a lot of consumer interest in Android, which ships on dozens of mobile devices across all four major wireless carriers.
The Droid X's big display and Hummer-sized dimensions (well, for a smartphone, anyway) are creating a lot of positive buzz. Factor that in with the iPhone 4's woes, and Motorola and Verizon couldn't ask for better prelaunch conditions.
Contact Jeff Bertolucci via Twitter (@jbertolucci) or at jbertolucci.blogspot.com.