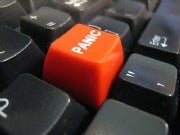 Facebook users in the UK can now add a "panic button" onto their profiles to report and prevent malicious behavior such as cyber-bullying and sexual harassment. The "panic button" — which is a Facebook app that adds a tab onto your Facebook profile — was created by the Child Exploitation and Online Protection Center (CEOP), a British law enforcement agency, after the rape and murder of 17-year-old Ashleigh Hall by a 33-year-old convicted sex offender, posing as a teenage boy, who she met on Facebook, according to the BBC.
The CEOP's app, called ClickCEOP, is a link not only to the CEOP Web site but also to nine other different sources of help including Childline and Beatbullying. The CEOP hopes that awareness of its app will spread amongst teenaged Facebook users when they broadcast the installation on their news feeds and pass along "badges" to friends.

Viviane Reding, the European Commissioner for the Information Society and Media, called on social networking sites to improve child protection measures earlier this year. Included in the 25 sites that needed an update were Facebook, YouTube, Xbox Live, MySpace, Flickr and more.
Facebook initially resisted the CEOP app, claiming its protection and reporting systems were adequate. But once Bebo and MySpace complied, Facebook faced pressure from the government to follow suit. Facebook quickly turned its story around and in March, agreed to cooperate with the CEOP.
The CEOP app is currently only available for those with a UK IP address.
U.S. Protection for Teens
Back in the States, Facebook in April updated its Safety Center to improve user controls and reportage. The new Safety Center has an informational section for teens, but it's very text-heavy and in order to access it, you have to click on "Account" then "Help Center" then "Safety" then "Safety for Teens" — not exactly the smoothest channel. Perhaps now that the UK has beefed up its child protection measures, the US will do the same.
Image: Flickr user "Star5112" Creative Commons license.