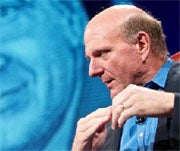 Microsoft CEO Steve Ballmer announced Monday a bevy of tablets and "smart device" were on their way from the company in the next "several months." Ballmer made the announcement during his keynote speech at the open day of the company's Worldwide Partner Conference in Washington, D.C.
"Over the course of the next several months, you will see a range of Windows 7-based slates that I think you'll find quite impressive," Ballmer told the crowd. Ballmer also said that Microsoft planned to build the tablets with partners Dell, Samsung, and Toshiba. Ballmer added that pricing would be varied with some models priced to compete with Apple's iPad.
Microsoft Tablet? Yeah Right!
Widespread skepticism pervaded however, since Ballmer previously announced the HP-Microsoft tablet, a Slate prototype, in January to an underwhelmed audience. The Slate looked and acted like a color Amazon Kindle and was sent back to the drawing board.
By late April, the struggling project was scrapped by both Microsoft and HP. HP then suddenly moved to buy Palm, an act akin to a drowning man grabbing at any lifeline — the company hopping aboard the WebOS system rather than using Windows 7. This month HP announced it would use WebOS on a whole gamut of devices. Other manufacturers, such as LG, are also abandoning Windows 7 as it becomes less relevant in the mobile market.
Too Little, Too Late?
Ballmer also admitted that although no release date has been slated yet, smartphones were now a priority. He said a completely reworked Windows Phone 7 now has his complete confidence. The operating system resembles HP's WebOS and now allows apps to be created across devices, unlike its previous incarnation.
Ballmer said Microsoft's poor planning "missed a generation with Windows Mobile," but said that the well-reviewed Windows 7 Phone will guarantee the company market share.
Ballmer speech seemed to be mostly hype with little substance, but he did say that he expected both tablets and phones to be out this year. So soon we will all be able to judge for ourselves.