Research in Motion plans to release two new products later this summer. The release dates are unknown for the BlackBerry OS 6 operating system and BlackBerry Protect, a free data backup and protection utility, as are some key details about how the products will work.
BlackBerry users are hoping that the new products will be backward-compatible, so that those with older BlackBerry models also can enjoy the new benefits. That said, RIM has videos with teasers for upcoming features that look promising and even fun.
BlackBerry OS 6
BlackBerry 6, according to RIM, will be loaded with new features, such as a redesigned home screen for easier navigation; context-sensitive pop-up menus; universal search options; new applications that integrate all your news and social networks into one destination; and a revamped browser powered by WebKit.
Webkit, an open-source engine, displays Web content in windows, follows links when clicked, maintains back-forward lists, and tracks the history of recently visited pages. It has many of the benefits of a PC browser, such as search, bookmarks, pinch-zooming, and tabbed browsing compressed into a smartphone environment.
The new home screen looks awesome and "fluid", with touchscreen icons that also appear in a swipable panel at the bottom of the display, plus a soft keyboard.
The new app Social Feeds should allow you to post messages instantly or make updates to multiple social networks, such as Twitter and Facebook. Plus, it enables access to online news sources and RSS feeds. The integration of news and social networks is a nice touch.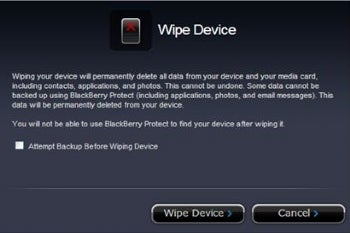 The OS 6 universal search bar is built to make searching easier, and has context-sensitive pop-ups. For editing, there's a text magnifier, which appears to makes it easier to insert the cursor between two letters. Can anyone say iPad OS or Android? It looks like a lot of these new features were borrowed from BlackBerry's competition–a nice improvement, but hardly original. Sorry, guys.
BlackBerry Protect
The second of these programs is a free data backup and protection utility developed by RIM. Later this week, a small number of users will be able to check out the beta version of BlackBerry Protect, which will become available to the public later this year.
BlackBerry Protect offers some protection and control over your device. For example, features include remote backup, lockdown, and data wiping. You'll be able to activate a louder ringtone to help you find a nearby phone, and create a custom lost-and-found message to appear on the device's screen, in case a stranger has your handheld. Protect also offers a restore device feature and the option to view the current location of the device on a map. It's all controlled by you–or your company–through a Web Interface.
Since BlackBerrys are so popular and coveted by so many, this program looks like a wise and logical addition to the family of BlackBerry apps. With these features, you and your company no longer have to worry about a security breach of confidential or privileged information if a cell phone is lost or stolen. The remote features that allow you to lock down or wipe a BlackBerry should ensure protection of your data. Remote ringtone activation, mapping the location, and custom lost-and-found messages could greatly increase your chances of retrieving that missing smartphone.
Remote backup lets you quickly back up even a lost device, in case you are forced to wipe it because initial efforts to reclaim it have failed. And the restore data feature could be a real time-saver if you find the missing phone, then need to restore your data and custom settings.
You can view and perform these tasks from a remote location, which is obviously necessary if the device is lost or stolen
Both BlackBerry OS 6 and Protect look like they could become essential tools for BlackBerry aficionados. We hope to learn more soon about compatible devices and release dates.