PaltalkScene is a full-featured messaging/chat program that includes video, audio, and a host of other bells and whistles, as well as the ability to send and receive messages from several other chat programs or protocols, including Facebook and Yahoo IM. It is fairly easy to install and use, though the free version has ongoing banner ads which make the interface seem cluttered and busy, distracting your eye from the ongoing stream of text or the video of your friends trying to shoo their cat away from their Webcam.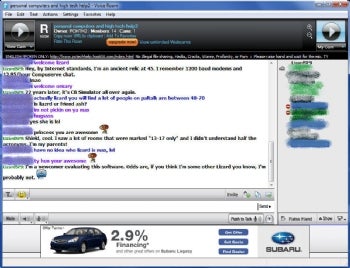 The Paltalk service has a tiered pricing plan. Paltalk Free is the level reviewed here. Paltalk Plus costs 40.00/year and includes unlimited, but low framerate, video (6 video windows at a time), and Paltalk Extreme increases the framerate and removes the window limit, for 60.00/year. All paid programs remove the banner ads..
PaltalkScene combines a person-to-person (or small group of up to 10 in Paltalk Free) messenger with a community site featuring literally thousands of rooms… most of which are empty. As is typical of any site where you can trivially create a room, club, or other such organization, thousands of people log on once, make a room, then never return, and rooms which have not seen a person log in for two years continue to clutter up search results. Also, as a side note, apparently there are apparently an awful lot of people for whom "roleplaying" does not involve Monster Manuals and twenty-sided dice. At least, I sure hope not.
I was able to find some decently populated rooms in only a few minutes of browsing. Fortunately, you can see room population and even sort by it before entering, so you don't waste time entering empty rooms. The text chat in PaltalkScene has all of the expected features–you can change your font, color, add bold or italic, and insert all kinds of graphic emoticons from a wide selection. Audio chat is clear and adds a nice dimension to the experience. Video chat is also enabled; you will see who in the room has a camera and you can see it if you wish, but the free version allows only 10 seconds of video in chat rooms. For private one-on-one chat, video is unlimited.
Other functions of PaltalkScene include the creation of groups for your pals, so you can easily send one message to coworkers ("Learning a lot at this conference, will tell you all when I get back.") and one to friends ("It's a good thing this is all on my expense account"). Just don't mix them up. You can easily create rooms, or store sets of your favorite rooms, and so on.
Bottom line? I liked the overall ease of use and setup of rooms and video. It was a trivial matter to do so simply by following the interface. Finding an existing room to join was somewhat hampered by the many dead rooms that cluttered the search results. The advertising and 10-second limit on video in chat rooms were irksome, but the point of most "Free" or "Lite" versions of software is to annoy you into paying for the full thing. The cross-protocol chat feature was my favorite; I really like having one program to use for multiple groups of friends. The free version is definitely worth trying out; if you find a good community you like, upgrading to a paid version may well be justified.