To cope with iPhone 4 antenna issues, Apple's latest fingers-in-ears method involves deleting support forum threads that point out Consumer Reports' recent "can't recommend" rating.
Using Google searches, TUAW found five threads referencing Consumer Reports' iPhone 4 lab test results. Now, they all come up as error messages on Apple's website. Bing cached one of the threads, which includes a link to Consumer Reports' blog post on iPhone 4 antenna issues and a discussion of the reports' validity.
At the time of this writing, Apple has not deleted two threads discussing the deletion of previous threads. Posts about the Consumer Reports findings also remain untouched in a larger thread on the iPhone 4's antenna issues.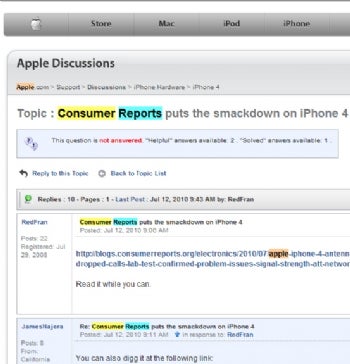 Consumer Reports made waves on Monday by refusing to recommend Apple's iPhone 4, after testing the phone's reception in a controlled radio frequency isolation room. The group found significant signal loss when holding the phone over its lower left-hand corner, where the antenna is exposed. Even though Consumer Reports group loved everything else about the phone, giving it the highest rating among current smartphones, the group refused to recommend the iPhone 4.
Why would Apple snuff out discussion of this finding? As one forum user claims, Apple considers forum threads on the topic to violate its terms of service. The company's terms forbid "Submissions about non-technical topics," including "Discussions of Apple policies or procedures or speculation on Apple decisions."
But just like Apple's App Store approval process, the forums are prone to contradictions and exceptions. Here's one man's proposal on how Apple should fix the iPhone 4's antenna problems (speculation on Apple decisions), and here's a debate on the iPhone 4 vs. HTC's EVO 4G (non-technical topics).
Apple's also known to lock down forum discussions that are technical. In 2007, for instance, the company stopped allowing new forum posts on iMacs with faded screens, and deleted subsequent threads.
I understand that Apple wants to keep its support forums focused on support, but deleting the original forum threads on Consumer Reports' findings is self-defeating because it only brings about more discussion. Besides, it doesn't look good for a company that seems to be turning its back on the issue.