It's smaller, shinier, and back in black: Microsoft's new Xbox 360 took many by surprise at last month's E3, though some of us had speculated for months that a 'slim' model was in the works.
More than just a component and size shrink, Microsoft added 802.11n wireless (previously a $100 external USB adapter) and packed in its premier 250GB hard drive without adjusting the standard system's $300 price tag.
What were they thinking?
I spoke with Microsoft's Senior Director of Xbox Product Management, Albert Penello, to find out.
Game On: It wasn't enough to shrink the new Xbox 360, you made some pretty assertive design choices, in terms of the new style.
Albert Penello: You learn a lot, you know, the Xbox 360 was only our second console. Our competitors have been doing this for a long time. It was nice to be able to take what we learned over the years and bring that to bear on the design, the features people wanted, while fixing some of the things that we wish we'd done better like the fan noise and stuff like that.
GO: At what point did you turn on the old model and decide it was time to rethink the design?
AP: It's a tough question to answer. There was always the concept from the beginning that if you're going to be in market for 10 plus years, at some point you're going to want to refresh the design. That's just part of the game industry cadence, to do redesigns during the life cycle as components gets smaller and power consumption goes down. So I think from the very beginning there was an idea, and I'll call it a very vague idea, that we were going to do something.
I think this particular project…I throw out two years, give or take, just because when you're doing a redesign like this, it's not something you decide months in advance. We wanted to get the quality there and make sure we got it right, so we were probably planning this for about two years, give or take.
GO: Walk us through the component selection process. How tricky was it getting part sizes and prices right in terms of your launch timeframe?
AP: Obviously there's roadmaps that your CPU and component suppliers have, so you kind of have a gauge of when these things are going to hit. And then you have a certain ability internally to drive those dates forward or backward. You know the technology is due at around a certain point, and if you deploy more or less resources, you can sort of wiggle that date around.
We decided to kick this off when we had the information that the components we were going to need would hit our timeline. It's a give and take. When are the components going to be ready versus when do you want to hit market. And obviously the things in Silicon [Valley] are years and years ahead. These guys know what their next three chips are going to be, what they can manufacture and what processes they'll have in place, and so on.
Next: It looks an awful lot like an old-school Xbox…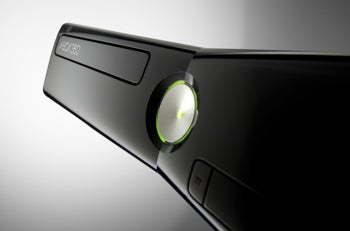 GO: The aesthetic parities with the original Xbox are striking. The X-shape, the beveled vent on the side–it almost looks like a lither, sleeker original-style Xbox.
AP: That's exactly what we were trying to do. Really the design goals were to retain the iconic Xbox shape. We talked a lot about that inhale, the center power button ring of light as the dominant image on the front of the console, the inhale shape. We wanted this to look like an Xbox 360. We wanted to unmistakably maintain that iconic shape.
But we were, as I always kind of remind people, at this point in the lifecycle of the original Xbox, launching the Xbox 360. So you sort of take cues from what more modern designs are. Where is automotive design heading, what's going on with television and entertainment centers. We wanted a sleeker, more modern and refined looking console that was still iconically an Xbox.
GO: I've been critical in the past of Microsoft's USB WLAN adapter's pricing at $100, and now you've essentially tucked that $100 inside the new Xbox 360 without boosting the price. How are you able to absorb the $100 differential?
AP: Any time we talk about pricing it's a touchy subject. There's multiple approaches to this, so let's start from the beginning. If you go back to 2005 and think about what the industry was like then, things like WiFi were premium add-on parts, people were still using [Xbox 360] memory units, and the accessory ecosystem was a lot different than it is now. You know, everything was an accessory. We were actually lauded for having an inbuilt ethernet port, because for the PS2, you needed to buy an accessory just to connect to the internet.
At the time we were designing the Xbox 360, we were right at the technology curve where WiFi was still pretty expensive. People always ask why we didn't add WiFi to the box. Well, we didn't design the console to have WiFi built in. People tell us to just take the adapter and put it inside, and then the engineers roll their eyes and remind everyone why the console has to be designed for it for space and signal reason.
The other thing is, in terms of pricing, we're not the manufacturers of these parts and the dongles. It's always hard for me to take the comparison with what someone can get at Fry's [Home Electronics] on sale from a no-name manufacturer, that you have to fiddle with your PC where you've got driver conflicts. It's a little more roll-your-own in the PC world.
We have specific requirements, they all have to be exactly the same, they need to be built a certain way. When you're building stuff for a console that has to be very consumer friendly and manufactured to different tolerances and specifications, it's not exactly the same as the free market on the PC. I mean, I absolutely understand why people draw the conclusions they do on pricing, but the realities of the business…it's not that way. We're not Linksys, who's clearing stuff out to Fry's to sell through last year's model.
Follow me on Twitter (@game_on)