At a Glance
Expert's Rating
Pros
Lightweight for its class, even with optical drive
1080p display
Cons
Only three USB ports; one is a combo port
80GB solid-state drive is small
Our Verdict
Micro Express delivers a surprisingly robust 15-inch laptop with true 1080p display and a DVD drive at well under 6 pounds.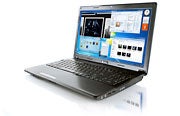 Micro Express ships this lightweight, unassuming-looking, 15-inch laptop with a robust feature set and a moderate price. The $1199 unit boasts an Intel Core i7-620M high-end dual core CPU under the hood, switchable graphics, an 80GB Intel X25M solid-state drive, and 4GB of DDR3-1066 memory.
What's more, though the NBL60's case looks ordinary (the unit is a standard 1 to 1.25 inches thick and has an unadorned black glossy exterior), it weighs just 5 pounds 10 ounces, sans power adapter–a surprisingly low number for a unit with an optical drive and a true 1080p display. The power brick adds a pound.
The laptop's performance is a little above average for its class (All-Purpose Laptops), posting a PC WorldBench 6 score of 123. This mark may seem low for a system with the NBL60's specs, but the laptop's use of switchable graphics may help explain it. The NBL60 has both Intel integrated graphics (to maximize battery life) and AMD's Mobility Radeon HD 5650 (for more-substantial graphics horsepower). As a result, however, nearly 1GB of the laptop's 4GB of system RAM is reserved for graphics.
The NBL60 also manages to cram a full numeric keypad into the main body, though Micro Express had to make some sacrifices. For example, if you press the Numlock key, you lose access to the larger navigation keys, including PgDn and PgUp–both of which are very useful in editing spreadsheets. You can press and hold the Shift key to use the navigation keys temporarily.
Typing on this keyboard is a distinct pleasure. The keys are responsive and don't requiring excessive force. We did notice one odd glitch, however: Just Cause 2, a recently released PC game, refused to recognize the main or numeric keypad's Enter key–so you can't play the game. Other games (such as Tom Clancy's HAWX) that use the Enter key played normally, so the Just Cause 2 problem is even more inexplicable and strange.
The NBL60's connectivity options are quite good. You get 802.11n, gigabit ethernet, and Bluetooth; only wireless 3G/4G broadband is missing. The 802.11n connection delivered impressively fast performance, installing very large applications and restoring a voluminous Steam games backup impressively quickly.
The NBL60 ships with a solid-state drive–but at 80GB, it's pretty puny by today's standards.In fact, loading six current-generation games consumed 95 percent of the system's available disk space. And even if you're not a gamer, you'll likely eat up the free disk space quickly with photographs, digital media, and other big files. Exacerbating the situation is the 15GB dedicated to the restore partition, which leaves only about 60GB for user data (after Windows takes its share, of course).
Expansion options are limited to two dedicated USB ports on the right side and one combo eSATA/USB port on the left. Video options include HDMI and VGA on the left side, which also houses the ethernet port. A five-in-one memory card reader is built into the front of the unit, and audio input and output jacks are adjacent to the pair of USB ports on the right side.
Video quality was superb in our tests. Upscaled DVD movies looked excellent, though off-axis viewing degraded quickly. In fact, the DVD upscaling was among the best we've seen, with little artifacting and few noticeable errors. High-defintion content, played through WMV HD files, looked great, too. This unit cries out for a built-in Blu-ray disc drive.
Audio playback quality is fairly neutral and pleasing, but it sounded quite thin, lacking bass and midrange-bass oomph.
Overall, I was quite impressed with the NBL60, though the skimpy disk space may be a problem for many users. On the other hand, you can probably spec a higher-capacity traditional hard drive and pay even less money. If you're looking for a solid, unassuming 15-inch laptop with an excellent display and keyboard, the NBL60 could be a strong candidate.