Remember Pandigital's Novel that was announced in May? This Android-powered e-book reader comes with a 7-inch LCD, ARM 11 processor, connectivity over AT&T's EDGE network and Wi-Fi, 1GB of storage space, and most importantly, a $199 price tag.
The Novel's built-in e-book reader app is apparently a bit clunky, so Nate Hoffelder over at The Digital Reader decided it was high time to find an alternative reader for this Pandigital product. While rooting the Novel proved difficult, getting it to run other applications has been a little easier.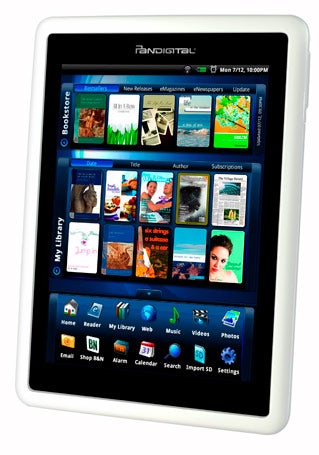 Hoffelder's first step was to install a replacement home screen for the Novel, in this case, Panda Home. An alternate home screen is needed so you can run new apps that you install on the Novel–in this case, e-book readers such as Aldiko, Kindle for Android, Fictionwise, and Kobo.
Installing new apps, however, requires use of the command line, but if this hack proves to be popular, it's likely someone will write a graphical installer. How does the hacked Novel do while running Aldiko or Kindle for Android? Apparently these apps do a great job taking advantage of the Novel's good hardware specifications: turning pages is faster, as is general responsiveness.
Beyond fast page turning, this hack gives Android fans an inexpensive introductory tablet on which to play with the Android OS. We're looking forward to seeing what else can be done with the Novel now that it's been opened up to more applications than ever before; perhaps it'll be definitively and reproducibly rooted.
If you're interested hacking on your Novel, see The Digital Reader for full instructions. More support for tweaking this tablet is available at the Novel forum on SlateDroid.
Like this? You may also enjoy…