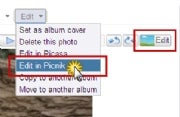 If you use Picasa Web, Google's photo sharing service, you can now edit your photos within Picasa including cropping, resizing, red eye correction and more thanks to integration with Picknik, the search giant's cloud-based photo editing tool. Google on Tuesday announced that Picnik photo editing capabilities will now be accessible to Picasa Web users in the United States and many other countries around the world. The new functionality will roll out to most Picasa Web users in the coming days. This is the first major integration between Picasa and Picnik since Google acquired the photo editing site in March.
To edit your photos, just open up Picasa, select the photo you want to fix, and then from the "Edit" drop down menu on the right select "Edit in Picnik." This will bring up the Picnik interface in the same Web page you have open, and give you access to Picnik's basic editing tools. You can return to the regular Picasa interface at any time by clicking "Back to Picasa Web Albums" in the upper right corner of your screen. (Click images to enlarge)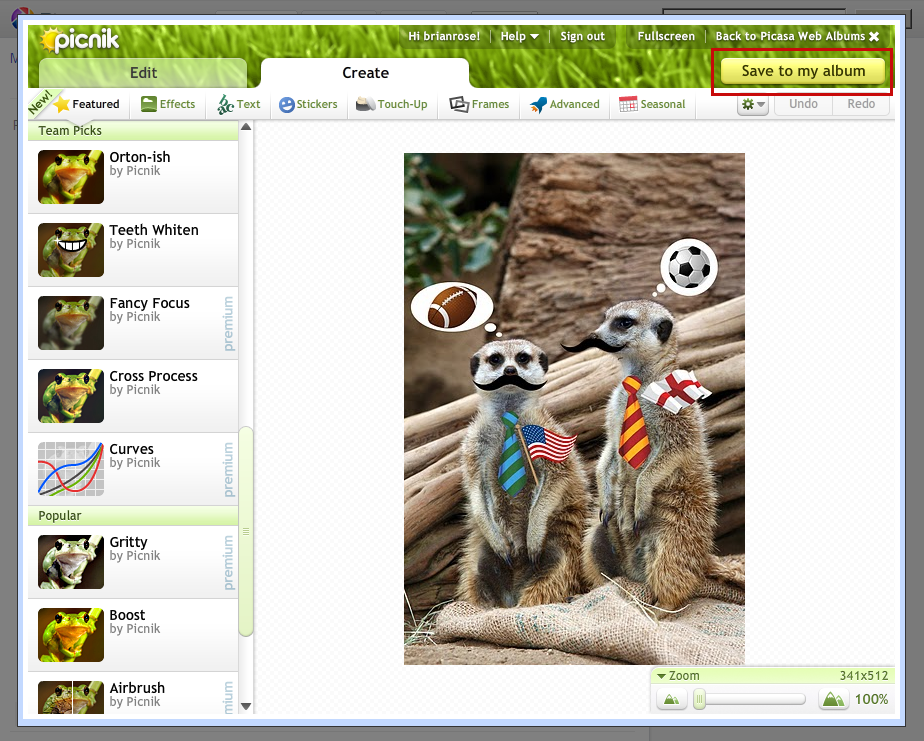 Once you've opened up the Picnik editing tools, you can adjust your photo or add novelty items including text, frames and virtual stickers such as fake mustaches, birthday cakes and sports equipment. After you've finished editing your photo, just press "Save to album" and you will be given the option to replace your old file or save a copy of your newly edited photo.
Premium Features
Picasa users can also get access to Picnik's premium features for a monthly fee; premium features include access to a larger selection of novelty items and effects, as well as layering and other advanced photo editing features. If you're already a premium Picnik user you will automatically be able to access your premium Picnik features when using Picasa Web albums. Picnik's premium service starts at $5 a month or you can pay $25 for yearly access.
Picnik is not going away
If you use Picnik, but are not a Googe user the new Picnik-Picasa integration will not affect your service. You will still be able to edit photos in Picnik and use the site's distribution tools to send your images to photo sharing sites around the Web including Facebook, Flickr, MySpace and Photobucket. Google users will not be able to take advantage of Picnik's photo distribution features directly in Picasa. For that functionality you will need to upload your photo to Picnik.com.
Picasa integration with Picnik is just the first of many planned integrations between Picnik and Picasa. In a brief discussion with Jonathan Sposato, Google's photo products manager and former Picnik CEO, Sposato said to "stay tuned for greater and greater integration" between Picnik, Picasa Web and Google's desktop photo editing software, Picasa desktop.
Connect with Ian on Twitter (@ianpaul).