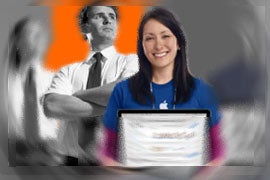 Many of us have turned to in-store support from the Best Buy Geek Squad or from an Apple Store Genius to help us get out of a technology bind. People who have talked to both quickly notice that the two employ very different styles and approaches–but which one has the better tech chops?
Apple's Genius Bar and Best Buy's Geek Squad are more branding than actual people, and I find both labels annoying, albeit in different ways. On the Apple side, you have the smug and self-aggrandizing "Genius" characterization–an appropriate name for people who not only know more than you do about how tech products work (a status that a word like "Expert" might convey), but are intellectually superior to you in every meaningful way. Look at it this way: You consult an expert; you impose on a genius. At Best Buy, meanwhile, the nonthreatening "Geek" is a step down in the social hierarchy from "nerd"–essentially an object to be used and pitied. That's what geeks are, right?
But real technicians work under these corporate caricatures. I was less interested in prior impropriety and ongoing hucksterism, and I wasn't going to embark on a months-long study. I just wanted to know how the individuals compared. So I set out to anecdotally determine whether the Geeks or the Geniuses have the better tech chops.
Though the Best Buy Geeks aren't geared toward face-to-face drop-by questions the way the Apple Geniuses are, nearly all of the Geek Squad desks I approached said that they could help me for 10 or 15 minutes at no charge if I brought in the troublesome computer.
The Apple stores I visited were crowded with customers and people waiting for tech support. The free Genius Bar draws such a large audience that you may need to make a reservation instead of stopping by unannounced–even if you just have a quick question.
When I arrived at the various Apple stores, I learned to flag down a blue-shirted employee who would then either check me in for my appointment or usher me to a different employee to begin that process. It's too bad that Apple's nouveau-retail design doesn't include a simple sign to explain the process.
How I Tested
I devised a series of seven platform-agnostic questions based on real issues that friends, family members, and I have encountered. I designed the problems to plumb a range of tech-support knowledge while still being applicable to a Mac or PC. Though the scenarios were the same, I posed them to the Geeks in the context of Windows 7 and to the Geniuses in relation to Mac OS X 10.6. Over the course of eight trips to various Best Buy and Apple stores in the San Francisco Bay Area, I gathered answers. In each case, I followed my script as closely as I could and provided additional details when asked for them.
The Questions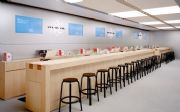 Q: I can't play certain online video files. On my Windows 7 PC, the problem seems to happen on Apple's movie trailer site. On my OS X Mac, I can't see various HD files on the Microsoft site.
Geek [answers about the PC]: If you're getting video from the Apple site, it's going to need QuickTime. There should be an error message telling you that.
Genius [answers about the Mac]: The video should say what the requirements are. Those videos should be in Windows Media; you'll need to get the Windows Media codec. You could also download Perian, a multicodec tool. Perian works for all kinds of Internet video.
Both answers solved the problem, though I give the edge here to the Genius, for suggesting a multicodec package that could allay similar issues from other video sites.
The winner : Genius, by a hair
Q: A friend installed Windows XP for me on a second hard disk, but I'm stuck in the wrong OS. How do I switch back and forth?
Geek: It should come up when you boot; you'll select it there. If not, something is not set up right. I would have to check it out.
Genius: Hold down the Option key–that's if you're using an Apple keyboard–when you start up, and choose the operating system. Option number two: When you're in OS X, go to the System Preferences Startup Disk to select it. The third option is to boot into OS X while in Windows; in the lower-right corner, there's a black diamond; click on that.
Both answers were correct, but the Genius was more thorough. The Geek could have also explained how to switch the boot order in the BIOS.
The winner : Genius
Q: I just set up a new e-mail account. I can get mail on my iPhone and computer. But if I read a message on my computer, I can't see it on my phone.
Geek: I'd have to see it in person. Is it getting mail properly? If you bring it in, I can check it out. It's definitely not something that should be happening.
Genius: It's POP [the older, Post Office Protocol mail system that doesn't keep messages available to different clients]. Make sure that you turn off 'delete messages from server' in the account settings. Otherwise with POP, if you read items in one place, they won't show up in the other.
I appreciated the Geek's enthusiasm, but the Genius nailed the issue right away.
The winner : Genius
Q: I have an old Linksys .g wireless router, and my network feels slow; it takes a long time to copy files. I'm running various wireless devices, including an old iBook. Do you have any suggestion to speed things up?
Geek: Upgrade your router. Yours only goes 54 mbps. A Wireless N router will go faster.
Genius: Turn on Network Utility. You'll see how fast the link speed goes. Also, if you're going to transfer a lot, connect ethernet instead of going wireless. That'll be your best bet; some routers do gigabit speeds and are much faster than Wi-Fi.
Both answers give good directions to improve the network. A Wireless N router can reach 300 mbps, and gigabit ethernet can run up to 1000 mbps. Nevertheless, both answers felt more like workarounds than like ways to unearth the root of the problem. Neither tech asked about the signal–802.11b or 802.11g–that my old iBook used. In this situation, my .b device was slowing down the wireless .g network.
The winner : Draw
Q: My wireless network seems to slow down if I move my laptop a few rooms away from the router. Is that actually happening, or am I imagining it?
Geek: Yes, speed depends on the distance away from the router. A Wireless N router will help the range, too.
Genius: It will be slower if you move farther. That's the cool thing about Network Utility; it shows your connection speed.
Both answers were good, but both could have suggested repositioning the router if slowing performance was an ongoing issue. Also, the Geek still didn't mention that, in upgrading to a Wireless N router, I'd have to upgrade my client devices to get the full benefits.
The winner : Draw
Q: I installed MP3 Locker to sync my music online, but it keeps harassing me when I start up my computer. Is there a way to stop it?
Geek: Find it in the bottom-right [System Tray] and click customize. Or go into the application's options/settings screen and look for a way to turn it off in startup.
Genius: Your best bet is to look in System Preferences. Go to Accounts, and click Login items. You'll see everything that happens when you start.
The Geek gave two good options, edging out the Genius on this question. The Genius gave a solid, general solution, but didn't suggest simply disabling a setting within the application.
The winner : Geek
Q: Is there a way to see what is running in general?
Geek: Go to Run, and type MSConfig under Start.
Genius: You'll see other things that you run at startup within the Accounts System Preference.
Both answers were good, since they were in the context of the startup issue. But the Geek didn't mention the Task Manager, and the Genius didn't point me to the Activity Monitor.
The winner : Draw
Geniuses Ultimately Outpoint Geeks
The overall winner: Geniuses
The final score in my tests was Geniuses 3, Geeks 1, with 3 ties. For the kind of over-the-counter troubleshooting advice my test questions sought, all of the Geniuses and Geeks I consulted did quite well. Still, overall, the Geniuses were a bit more helpful, and the advice they offered was more specific and result-oriented. I did have to ignore the too-slick atmosphere of the Apple store, but braving that environment can be worth the free support, and all of the Geniuses I spoke to were friendly.
I was impressed with the Geeks, too. Though they finished second in my test competition, they offered great advice in most situations, and they were always happy to help.
Field Guide: Genius vs. Geek
| | | |
| --- | --- | --- |
| | Genius | Geek |
| Voice | As likely to speak with a German accent as to refer to you as "bro." | Excitedly plows through acronyms, even if you can't keep up. |
| Hair | Works hard to look messy | Naturally messy |
| Uniform | Blue Apple shirt | Clip-on black tie |
| Favorite car | Tesla Model S | Ecto One |
| Favorite movie | Weird Science | Revenge of the Nerds |
| Ringtone provided by | MC Frontalot | MC Chris |
| Has to get home before | 30 Rock | Curfew |
| Star | Wars | Trek |
| Uses job as pick-up fodder? | Yes | No |