Slacking off at work just got a little easier with Facebook integration for Microsoft Outlook.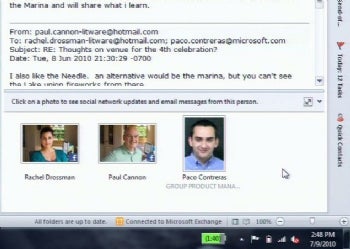 Users of Microsoft's e-mail program can now look at their contacts' Facebook status updates, photos and wall posts in real time, and Outlook also pulls profile pictures to associate with each Facebook-connected contact.
As the world's most visited site, Facebook is the crown jewel of Microsoft Outlook Social Connector, a plug-in that blends social networking with e-mail. Microsoft debuted the plug-in with LinkedIn contacts in February, and added MySpace to the mix in March.
For now, Facebook is a one-way street on Outlook. You can read status updates and look at photos, but you can't "Like" anything or post updates of your own. Microsoft told Mashable that it plans to let users push data to social networks in the future, but didn't mention Facebook specifically.
Outlook isn't the first mainstream e-mail service to get social networking integration. Yahoo Mail began pulling in Facebook status updates in March, and Hotmail joined the trend with Facebook and MySpace support in May. Google's Gmail charted its own path by integrating Google Buzz. I think it's a natural progression for communications; the same blending of social networking, e-mail and text messaging is happening on smartphones.
Outlook is a bit different because of its popularity in the office. Roughly half of all U.S. companies ban Facebook and Twitter at work, according to a recent study by IT staffing firm Robert Half Technology. For those employers, the idea of a Facebook-connected Outlook might not go over so well.
But Mashable paints a scenario in which social networking integration could provide an advantage: If you're connected on Facebook with clients, you can better relate to them by keeping up on their activities and interests — provided you can pull it off without acting creepy.