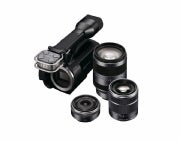 In the past few years, video-capable DSLRs and compact interchangeable-lens cameras have gained momentum in the world of filmmaking: They have big sensors, shallow depth-of-field capabilities, versatile interchangeable lenses, and affordable prices in comparison to professional-level camcorders.
But while these cameras have the guts to shoot great video, they remain cameras at heart. They're designed with photography in mind, and using a DSLR for serious video projects often requires the use of a special rig that costs more than the camera itself. A redesigned camera body built for shooting video was bound to pop up sooner or later.
In the past few months, it has happened twice. First came word of the Panasonic AG-AF100 Micro Four-Thirds System camcorder, announced in April. And now, hot on its heels, Sony has announced an interchangeable-lens video camera of its own, the NEX-VG10, which will be available by the end of 2010.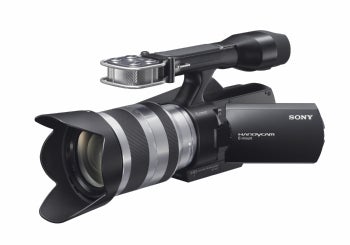 The NEX-VG10 shoots 1920-by-1080 AVCHD video at 60 interlaced fields per second (you're fixed at that 60i frame rate), and its maximum bit rate for video capture is 24 mbps. It offers manual video controls (shutter, iris, white balance, and gain), manual still-image controls (full manual, aperture priority, and shutter priority), and manual focus controls, as well as beginner-friendly automatic settings.
The NEX-VG10 offers the same Exmor APS HD CMOS sensor and E-mount lenses as the Alpha NEX-5 and Alpha NEX-3 compact cameras announced earlier this year; that lens-and-sensor combination performed extremely well in our lab-based video tests for the Alpha NEX-5.
Sony's new camcorder will ship with a new optically stabilized 18-200mm F3.5-6.3 zoom lens, and the video camera has a 1.5X focal length multiplier for all E-mount lenses; as such, the kit lens offers a reach of 27mm to 300mm in 35mm film equivalent. A $200 A-mount adapter is available for using Sony Alpha DSLR lenses with the camcorder.
On the still-image side of the equation, the NEX-VG10 borrows a few things from the Alpha NEX-5. It captures 14-megapixel still images and offers a 7-frame-per-second burst mode, along with some of Sony's cooler in-camera features, such as Handheld Twilight mode and a High Dynamic Range setting.
After using the NEX-VG10 for a few minutes during a recent demo, I could tell that Sony didn't just slap an interchangeable lens mount onto a camcorder; the scene modes and controls for both video and stills make the NEX-VG10 a refined and versatile double-duty weapon. Weighing in at almost 3 pounds, it's not the lightest camcorder on the block, but holding it by its top-mounted handle rather than by its side-mounted hand strap lessened its heft quite a bit.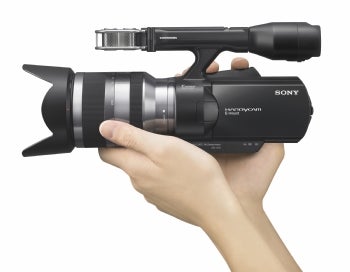 The NEX-VG10 is primed for serious audio capture, thanks to a cluster of four directional microphones on its upper element, as well as a proprietary hot shoe and a standard cold shoe under a door on the camcorder's handle. In addition to a flip-out 3-inch LCD viewfinder, the NEX-VG10 has an eye-level EVF that swivels vertically, and the camcorder saves footage to a single card slot that accepts both Memory Stick and SDHC/SDXC cards.
The NEX-VG10 is slated for availability in September at a price of $2000; that's about one-third of the rumored price for Panasonic's interchangeable-lens AG-AF100 camcorder, which doesn't have official pricing or release-date information at this time. With multiple frame rate options and full 1080p AVCHD video capture, Panasonic's Micro Four-Thirds camcorder is geared more toward professional videographers; also, far more Micro Four-Thirds lenses are currently available.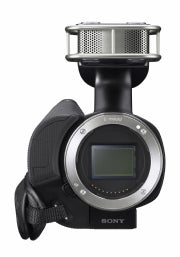 But even though the NEX-VG10 targets the prosumer portion of the video spectrum, it boasts a bigger CMOS sensor, according to Sony. The combination of a $2000 price and an impressive array of features should be enough to entice a lot of filmmakers.