Apple's second-generation iPad may feature 5.6- and 7-inch OLED screens, and may hit the shelves as soon as the fourth quarter of 2010, according to the Taipei-based Digitimes.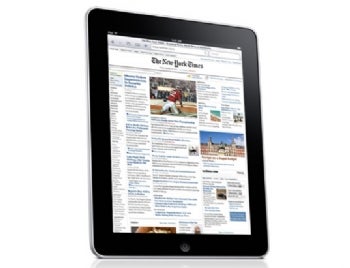 According to the Digitimes' unnamed sources from component makers, Apple has "recently placed new iPad orders to Taiwan-based component makers for the fourth quarter of 2010 and the first quarter of 2011 with 9.7-inch, 5.6-inch, and 7-inch models all included."
The report states that the 5.6- and 7-inch models would most likely target the e-book reader market, while the 9.7-inch model will receive some "minor changes" and remain a model targeted at the multimedia entertainment market.
This report is consistent with the earlier rumors (also reported by Digitimes) in April that suggested the second-generation iPad would feature an OLED screen.
However, it's important to take this rumor with a decent-size grain of salt–especially considering that OLED screens are still fairly expensive. According to Digitimes Research senior analyst Mingchi Kuo, the current price of a 9.7-inch LCD iPad panel costs around $60-$70, while the price of a 9.7-inch OLED screen costs around $500. Kuo noted in April that the price gap is "unlikely to narrow significantly in 2010 or 2011."
In this most recent Digitimes article, Kuo points out that the current largest OLED maker, Samsung Electronics, does not even have the capacity to supply the company's own products with OLED screens–so it's unlikely that Apple will suddenly find itself in a windfall of OLED screens in the fourth quarter of 2010.
Perhaps the more important question is, would you even care if the newest iPad had varying screen sizes and/or OLED displays? Or would you rather see some different improvements, such as a camera or support for Adobe Flash?