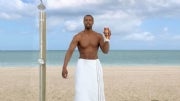 The Old Spice Guy is perfect, obviously. Zero body fat, the supernatural ability to embody masculine ideals, and a baritone deadpan delivery that instantly unleashes awesome into the world.
The Old Spice Guy may also be the most brilliant viral ad campaign of its time, especially now that he's creating customized videos for fans and followers. All this from a deodorant company. Who knew?
If you haven't seen an Old Spice Guy commercial yet, um, go see them. All of them. There's a YouTube channel devoted to towel-clad Isaiah Mustafa's 30-second ruminations on everything you've wanted to know, ever.
The Old Spice Guy could have rested on his laurels, but the Old Spice Guy never rests. He probably doesn't sleep at all because he doesn't need to. The Old Spice Guy –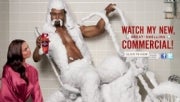 – and the genius marketers and writers in the wings — brought the man to the masses by commandeering the Old Spice Twitter feed: "Today could be just like the other 364 days you log into Twitter, Or maybe the Old Spice man shows up."
He then fielded questions on Twitter, Facebook, and Reddit and responded with personalized videos. Gizmodo asked his preferred method of Old Spice bodywash application and got this: