As a chorus of pitchfork wielding iPhone 4 customers are demanding Apple admit to antenna problems, a less vocal minority are defending Apple. A cadre of noted analysts and influential bloggers are taking Apple's side in the antenna debacle. They defend the company's line that signal bars are inaccurately reading the iPhone 4's reception capabilities.
Consumer Reports took the polish off Apple's iPhone 4 with its thumbs down on the device after testing it. According to an electromagnetic engineer and mobile phone market analyst, those tests may be suspect.
Writing in his "Viewpoints" blog, analyst Bob Egan argues that the CR tests of the latest iPhone model were "not so scientific." He maintained: "Consumer Reports RF" engineers should know better than to think they can run an engineering grade test for an issue like this in a shielded room. And certainly not one with people in it."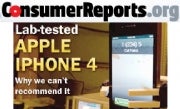 According to CR, a finger placed on the iPhone's antenna reduces its sensitivity by 20db. That number is "fantasy," Egan declares, because CR testers failed to connect to a functional point inside the iPhone. "Even the way they seem to have tested the change–by varying the base station simulator levels–seems to assume the iPhone receiver and/or transmitter operate in a linear fashion (the same way) across all signal strengths–bad assumption," he added.
"Bottom line," he writes. "From what I can see in the reports, Consumer Reports replicated the same uncontrolled, unscientific experiments that many of the blogging sites have done."
At this point, however, voices like Egan's aren't likely to be heard over the din that's created an impression in the public's mind that there's something wrong with the iPhone 4.
"Personally, I think the death grip is a non-issue," writes Cult of Mac editor and publisher Leander Kahney. "Given all the complexities of cell-phone networks, the possibility of holding the phone the wrong way is ridiculously insignificant. A rainstorm has more effect on reception, or the number of people simultaneously using the local tower, or the walls of your office building."
"I believe Apple when it says the iPhone 4's antenna is the best it's ever shipped," he continues. "But real or not, the issue is now firmly equated with the iPhone 4–the same way the Power Mac Cube was associated with hairline cracks. In the media, no one talked about the Cube without mentioning the cracks– and it doomed the machine."