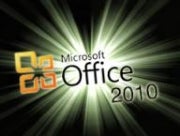 Microsoft Office 2010 is off to a slow start following its launch in May, says market research firm The NPD Group, but not for the reasons you might suspect.
In its first two weeks, sales of Office 2010 were greater than those of Office 2007, but its predecessor had a stronger debut in both units and dollars three years ago. NPD attributes the slow start to bad timing and an already saturated market. According to NPD the saturated market is not made up of the free alternatives such as Google Docs and OpenOffice.
If you asked me — an OpenOffice user — I'd say those alternatives are giving Microsoft a run for its money. By launching Office 2010 Web Apps, a suite of free online productivity software supported by ads, Microsoft appeared to be feeling the heat from Google Docs. Microsoft was willing to risk cannibalizing Office 2010 sales to fight Google on the fast-growing web front. And with downloads of the free OpenOffice skyrocketing in 2008, Microsoft was facing trouble on the installed software front as well.
But NPD says with "virtual certainty" that these free alternatives haven't contributed to Office 2010's poor performance out of the gate. "These products have little awareness among the mainstream consumer who is the retail boxed version's primary customer," NPD Vice President of Industry Analysis Stephen Baker said, adding that free alternatives could eventually threaten Microsoft Office, but not now.
Office 2010 launched during a slow season for new PC purchases, whereas Office 2007's launch coincided with the debut of Windows Vista. I'll note that Windows 7 launched in October, and Microsoft sold more than 150 million copies of the OS in its first nine months. That's a lot of people who had no choice but Office 2007; Microsoft only allowed free Office 2010 upgrades to people who bought the old software on March 5 or later.
Meanwhile, Office 2007 was a success, NPD said, with lifetime sales exceeding $1.5 billion. Microsoft heavily promoted the software — the company's probably waiting for a better sales season to do the same with Office 2010 — and convinced a lot of people who were pirating Office to go legit. With so many people using Office 2007, Office 2010's new features just weren't enough.
Does it matter, though? Office 2010 doesn't have to race out of the gate, as long as Windows 7 buyers got some version of Office last year, and new PC buyers are getting the new version. I agree with NPD that Office 2010's short-term success comes down to promotion and pricing. But if you're a consumer, as opposed to an industry analyst, the long-term and the thread of cloud software is much more interesting. And that's where Microsoft is going to have some real problems.