Google recently added some great new features to Picasa Web Albums, the search giant's photo-sharing site, thanks to the company's recent acquisition of the photo editing site Picnik. Picasa users can now tweak images right inside their Web browser without leaving Picasa, using Picnik's tools for functions like color correction, cropping, resizing, adjusting the exposure, and adding frames.

If you're already a Picnik user, then the new features will be immediately familiar; but if you've never seen Picnik before, here's a look at some of the new things you can do inside Picasa Web Albums.
Getting Started
The first thing you have to do is open Picasa Web Albums in your browser and select the photo you'd like to edit. chose a shot I took of the Flatiron Building in New York City.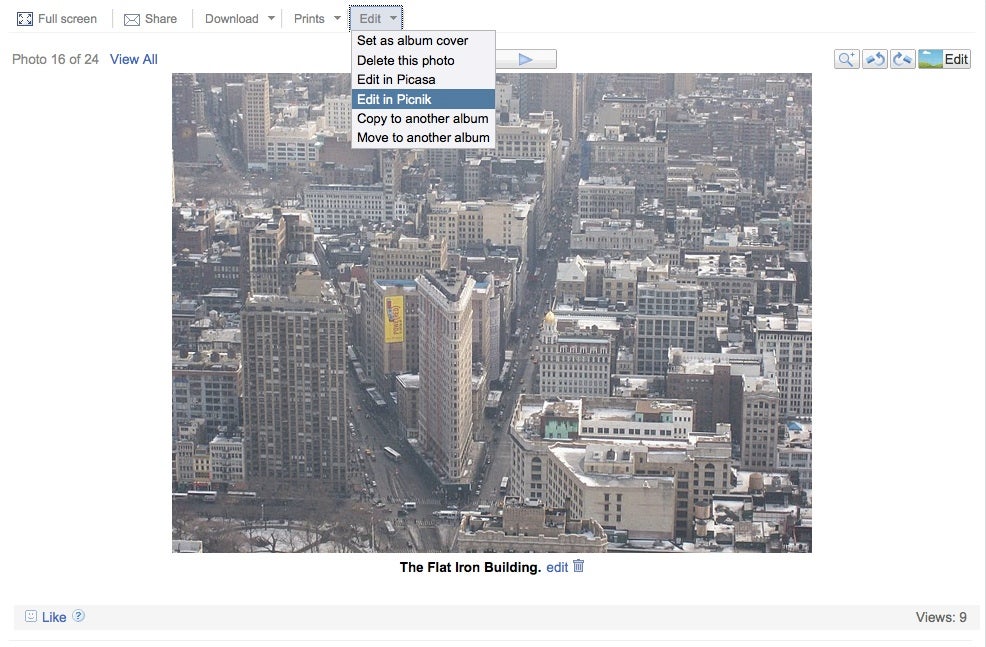 To call up the Picnik editing tools you can either select "Edit in Picnik" from the Edit dropdown menu above your image, or click on the "Edit" button to the right of your image. (Click on these screen caps to enlarge them.)
Either method will bring up a pop-up window that contains the Picnik editing tools and your photo. By default, you will see the Edit menu that includes options to rotate, crop, or resize your image. You can also adjust the photo for exposure, colors, sharpness, and red eye. On the far left there is also an autocorrect feature th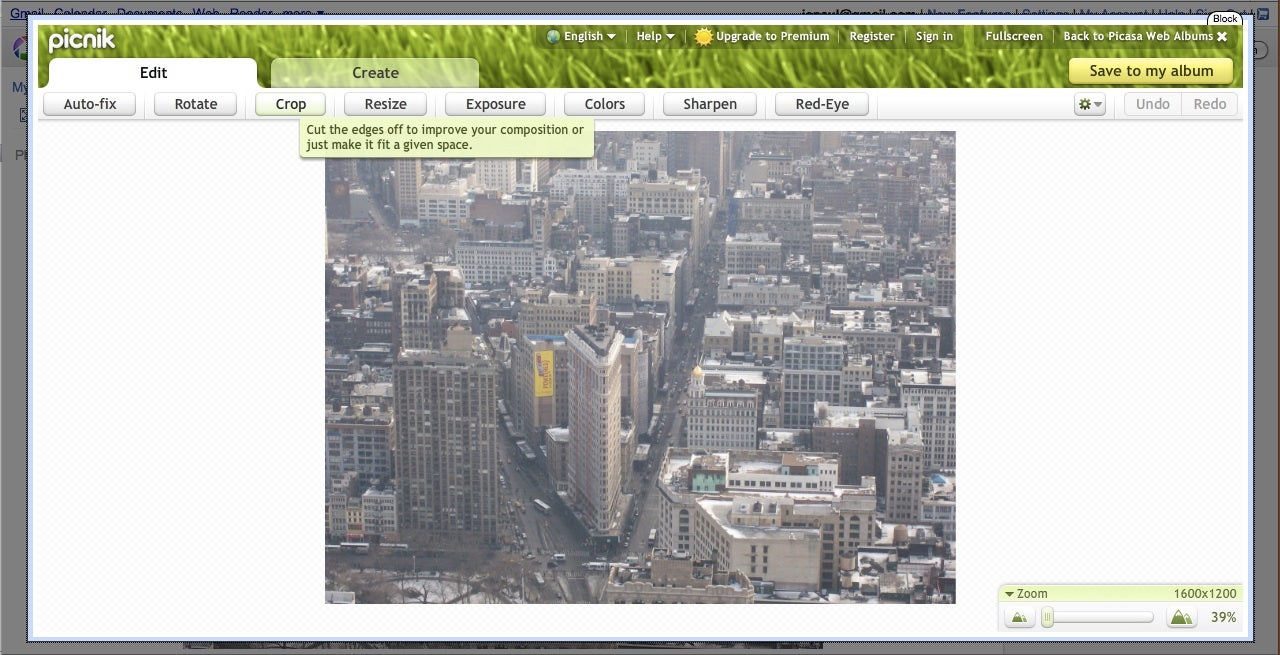 at lets Picnik quickly adjust the image for you.
Next to Edit, you'll see the Create tab where Picnik keeps its novelty items like icons and frames, but you can also find options to airbrush and fix blemishes, as well as play with the photo's color levels and other advanced features.
Across the top of the window are options for changing your interface language, and access to your Picnik account and premium features. The advanced tools like adjusting color levels, as well as some of the novelty items, are considered premium features that you can use for a small monthly fee.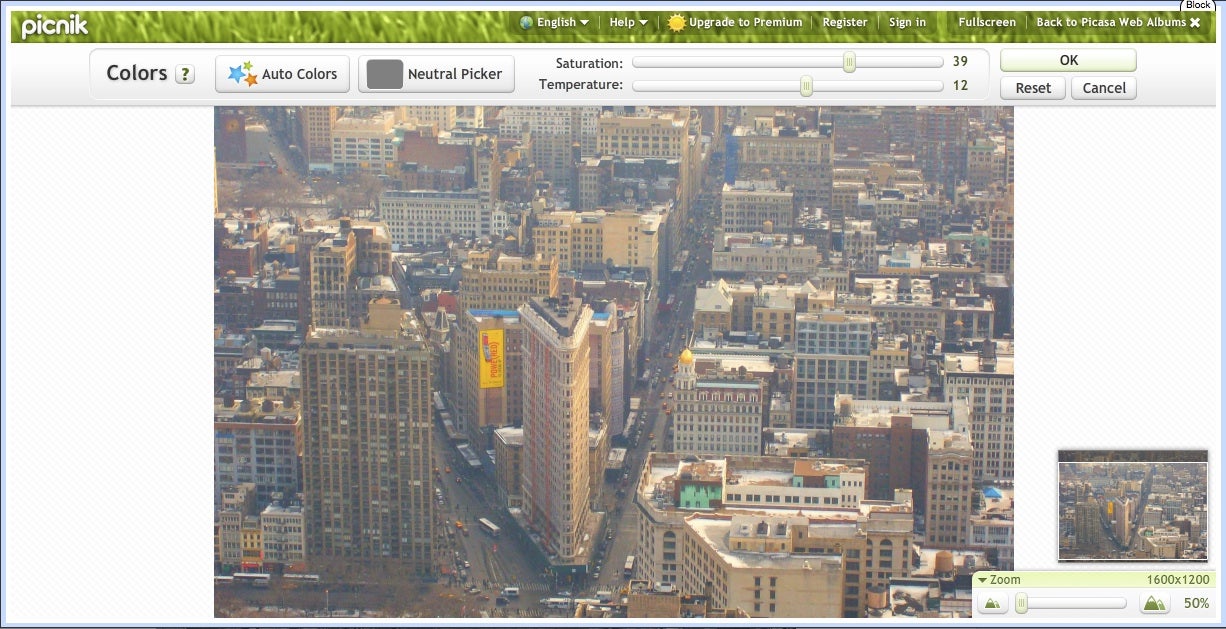 Most of the features under the Edit tab use basic sliders to adjust your photo, and any changes you make will immediately be reflected in the image below. My shot of the Flatiron Building was taken with a fairly low-grade camera, so I decided to adjust the colors to make the image stand out a little more.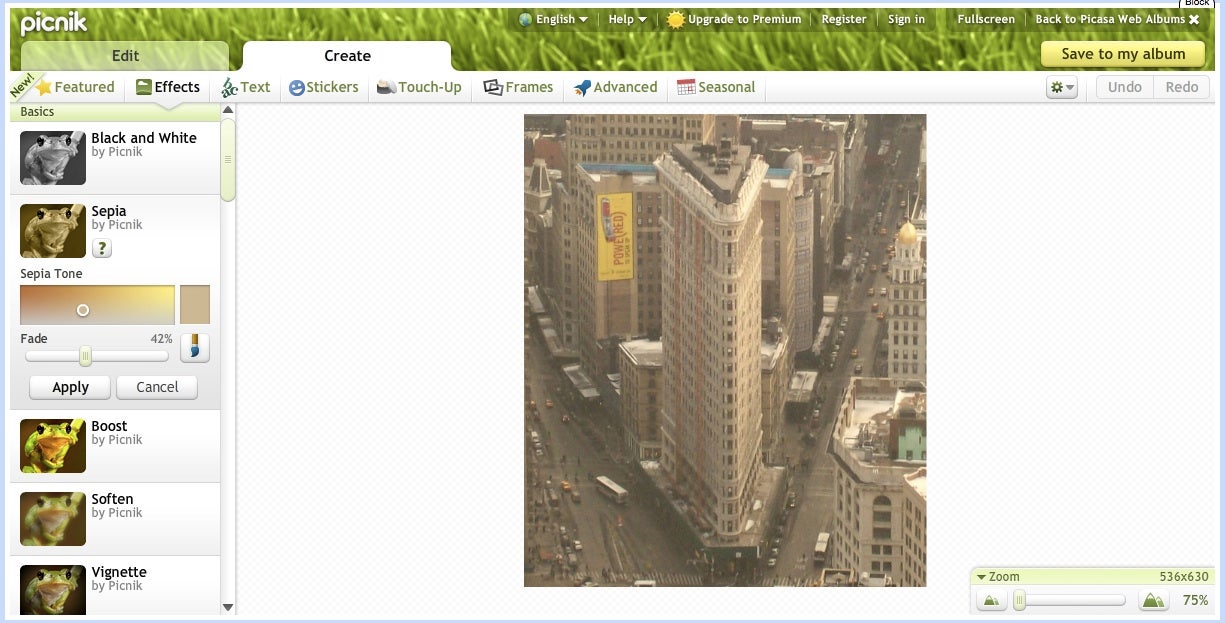 I decided to crop my photo, and focus on the Flatiron. Then I switched to the Create tab and added a sepia tone.
Again, Picnik gives you a simple slider to edit the photo, but for certain effects such as the sepia tone Picnik also offers a palette you can adjust for even greater control.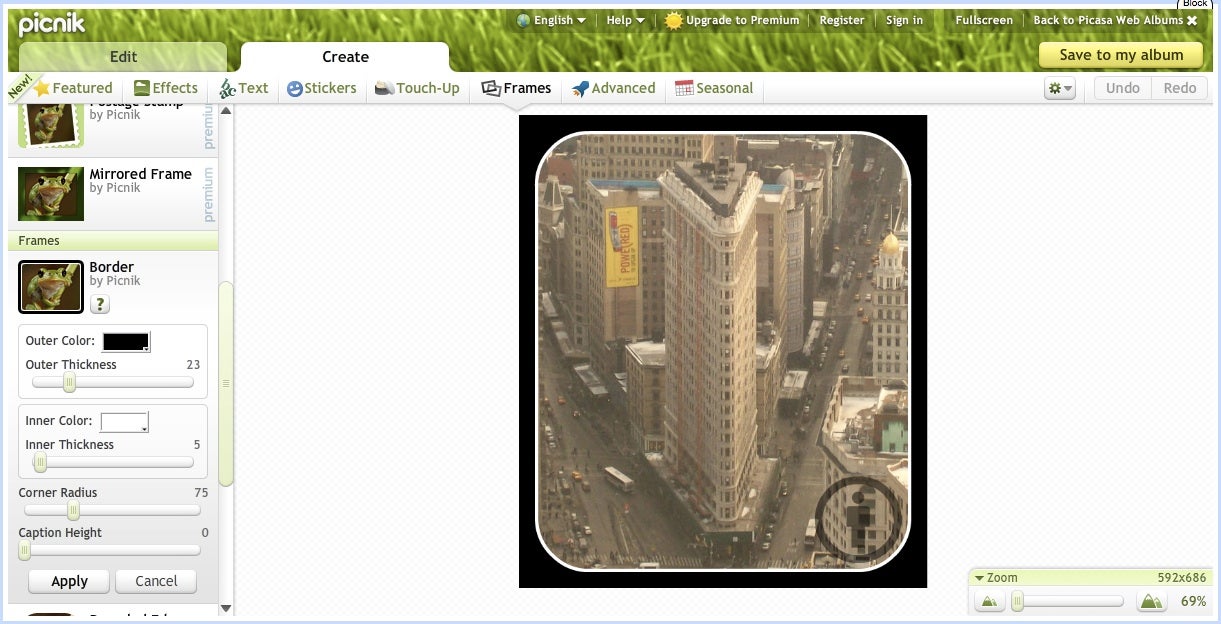 Using the Stickers and Frames options I was able to add a Creative Commons icon to the lower right side of the photo. I also made the icon a little bit transparent so that it wouldn't interfere too much with the main focus of the image. As you can see, I also added a frame with rounded edges. Again, all these effects were adjusted through slider controls.
To save, just click the "Save to my album" button on the upper right side, and select whether you want to replace your original or create a new copy of your photo.

After Picnik finishes saving, it returns you to the regular Picasa interface with your new photo. See my finished, edited image of the Flatiorn Building below (click to enlarge the shot).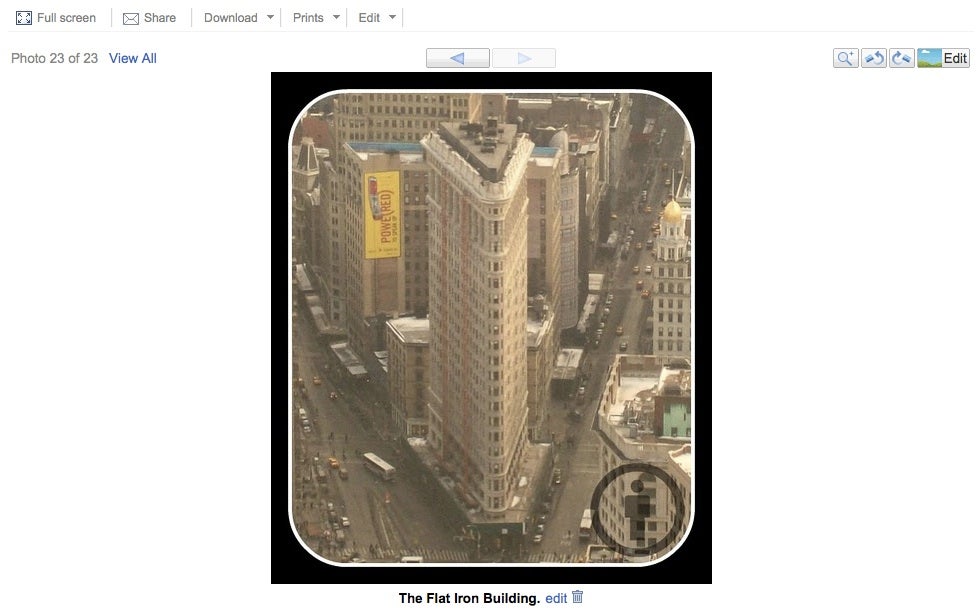 Picnik in Picasa is an added convenience for anyone who uses Picasa on the Web, and overall the tools are helpful and simple to use.
The only downside I found was that, just like at Picnik.com, your photo editing session will be interrupted from time to time with offers to upgrade to a premium Picnik account. But if you can live with that, the new Picasa-Picnik integration offers some great functionality to Picasa Web. Check it out and let us know what you think in the comment section below.
Connect with Ian on Twitter (@ianpaul).