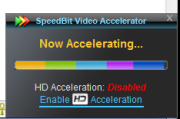 In response to some recent posts about YouTube, reader Miles wrote me to ask about YouTube "buffeting" (I think he means buffering, unless YouTube has started generating strong winds in his area).
Specifically, Miles is wondering why YouTube sometimes starts and stops playback rather than buffering the entire video (or most of it, anyway) and then playing it.
Good question! YouTube? What do you have to say for yourself?
Nothing. I see. Well, the fact is that YouTube isn't the only video site that does a mediocre job of buffering. Even if there's network congestion or a slow connection, most video sites start playback immediately, which can result in those annoying pauses.
The solution? A free utility called SpeedBit Video Accelerator, which is expressly designed to make streaming video play without buffering interruptions.
SpeedBit relies on something called multi-connection technology to establish faster video downloads on sites ranging from AOL to Yahoo, with more than 160 others in between. (Alas, Hulu and Netflix aren't among them–though I think those two are much better at buffering.)
The free version works this magic on "normal" and "HQ" videos (those streaming at up to 200Kbps). If you want the same acceleration for "HD" videos (200Kbps and higher), you'll need to shell out $19.95–per year–for the Premium version.
That strikes me as a little steep, but hopefully the free version will get the job done for readers like Miles. In my tests, SpeedBit worked as advertised, particularly when my connection was congested with other things like file downloads and VoIP phone calls.