Though you might not like the idea of major companies keeping tabs on you in real time, applications that utilize location technology are steadily becoming more popular among smartphone users.
Location-based services use your mobile device's GPS functionality–coupled with nearby cell phone towers–to tap in to local resources to connect you with people and places in your immediate area.
You can find apps that will point you in the direction of pretty much everything–the beloved Golden Arches, the nearest leash-free dog park, even the nearest clean toilet. Although some may seem pointless or even a little creepy, most location-based services provide extremely helpful services.
Here's a look at some of the biggest location trends to date.
Meet, Greet, and Explore
Among location apps, the stars are the catch-all services that direct you to points of interest in your immediate area and also offer an easy way for you to meet up with your friends. You can then make or change plans on the fly while taking local convenience into consideration.
Though lots of services promise such ease of use and convenience, each has its own spin on the method of providing information. And if you're concerned about oversharing your info, you'll find customizable options for who you share your information with and at what time you do so.
On the basic end is Google Latitude, which lets you see where your Latitude friends are on a Google map. You determine who to share your location with and when; you can also hide your location at any time. Of course, once you find a friend you can search Google Maps to see what's in the area, and then invite the person to meet up there.
Loopt uses the location of your phone to help you discover people and places in your immediate area. You log in, see if any of your Loopt friends are around, and ping them to see what they're up to. You can read reviews of local places that other Loopt users have written, and you can post your own in return. Loopt shares real-time location details only with people who have mutually approved each other, so you don't have to worry about random strangers following you. (The free Loopt app is available for Android and iPhone.)
Brightkite is another service intended to keep friends in contact. This app, however, is designed more around a post-and-share functionality. You check in when you arrive at a new location, take a photo, post it to your friends, and write a note or leave a tip about a place or event. Other users can read your tips and posts, but they won't see your location in real time when you check in unless you allow them to. (The free Brightkite app is available for Android and iPhone.)
Play as You Go
Some apps and social networks–such as the überpopular Foursquare and its competitor Gowalla–have turned collecting location data into a game. Both services take advantage of a model that awards you points when you check in to a new place and lets you compete against your friends and other players. (The free Foursquare app is available for both Android and iPhone; the free Gowalla app is available for both Android and iPhone as well.)
Although the games have similar objectives, they have some key differences.
With Foursquare, you check in via the mobile application when you arrive at a restaurant, a bar, a shop, or even a subway platform. This action lets your friends know where you are, and the info is logged in your Foursquare profile. The more places you check in to, the more points and badges you can earn. If you check in to a certain place more than any other person, you become the Mayor of that spot; lots of businesses offer perks for their resident Mayor, such as free drinks or discounts.
Instead of badges, Gowalla gives you stamps and pins. You receive a stamp for every new place you check in to. Afterward you obtain pins when you reach certain check-in milestones. The service also offers items that you can virtually pick up when you visit specific places, and you can leave the items in other locations for other people to find. You can see where the item has traveled and how many users have found it–a history aspect that gives the game an entertaining edge.
Transportation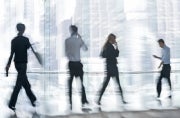 Having some basic transportation applications loaded onto your smartphone can save you a lot of trouble if you're traveling in a new city, or even if you just missed your usual bus.
Carticipate is a rideshare application that connects you to local travelers headed in the same direction as you are. You enter where you're going and when, and the application matches you to users with similar plans. From there you can coordinate driver and passengers to earn gas money (if you're the driver) or get a lift. Think of it as modern-day hitchhiking. (The free Carticipate app is available for iPhone.)
If you're in a large city like New York, catching a cab is as easy as holding your hand up. But in places where taxis are a little less common, the Cab4Me app can come in handy. Turning the app on will find the closest cab company to your current location, and just a tap on the map will initiate a call to request a taxi. (The Cab4Me app for iPhone is $1.99; it's free for Android.)
Public-transportation apps are also available for many major cities, and keeping one for a transit system you use regularly is a good idea. Transport Maps 1.6 offers access to public-transportation maps for cities and countries worldwide. Once you download the app, you can search for the spot you require, or the GPS sensor in your phone will direct you to the map you need. (Transport Maps 1.6 is free for Android.)
You can find localized apps for individual cities that will give you real-time predictions and status updates on trains, subways, and buses. Such apps can also direct you to the nearest stop and give you instructions for getting from point A to point B.
For folks who steer clear of public transit, Trapster can spare you a speeding ticket. Trapster is a speed-trap locator app that its users completely control. If someone is driving and spots a police officer camped out with a radar gun, that person can tap the Trapster map as they pass by to warn other Trapster users in the area. Traps can be categorized as live police, red-light cameras, mobile speed cameras, school zones, and more. (Trapster is available free for Android and iPhone.)
Next: Apps for Eating Out, Shopping, and Medical Uses
Grab a Bite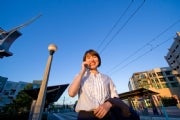 With a ton of food and restaurant apps on the market, it's hard to find a service that sets itself apart. Foodspotting does just that. Instead of pointing you toward restaurants, Foodspotting focuses on dishes. Users capture photos of something tasty and share them with others, and the images are associated with the location of the restaurant. That way, other foodspotters can search the area for whatever dish tickles their fancy.
If you love a dish that has already been listed, you can give it a "nom" to signify its deliciousness. (The free Foodspotting app is available for iPhone.)
The local search-and-review site Yelp also has a mobile app, and although you can use Yelp to look up reviews on just about everything, in particular it's a fantastic resource for restaurants. You can see user reviews, price listings, and menu options for places right around the corner.
Zagat-to-Go allows you to find local restaurants that have earned the Zagat Survey seal of approval. You can search based on location, cuisine category, Zagat ratings, or cost. The app also keeps track of your recent locations to recommend restaurants in areas that you frequently visit.
Shop and Go
Location-based services can help you save a little money while you shop. They can point you toward places holding sales, give you localized coupons, or uncover the best deal on an item of interest.
Groupon features daily deals in several major cities, and the bargains can cover anything from food to services to entertainment. You can get the deal only if enough people join Groupon the day the deal is offered, providing an incentive for users to invite their friends. The mobile app gives you directions to spots where deals are featured (it's available at no cost for iPhone).
Postabon is another deals-based system, but instead of following a deal promoted by a vendor, users are responsible for posting bargains as they see them and notifying one another. Activating Postabon can find you sales as you move about town, from happy-hour specials to retail clearance sales. If you spot a sale that hasn't been posted, you can share it with everyone else. You can also search for deals based on your exact location. (The free Postabon app is available for iPhone.)
If you're about to make a purchase but you want to ensure that you're getting the best deal possible, look into ShopSavvy. This app lets you use your phone's camera to snap a shot of the bar code to find prices for the item locally and online. If you see the item listed cheaper at a different store, the app will give you directions. (The free ShopSavvy app is available for Android and iPhone.)
Health and Safety
In case of a medical or family emergency, location-based applications can assist you in seeking appropriate help and care.
iMobile Care gives you on-the-spot information about medical situations, conditions, and emergencies. Pressing the app's Emergency Button dials 911, and while you're waiting for help to arrive you can find first-aid tips and instructions for scenarios such as choking, bites and stings, chest pains, and traumas.
The app works with the GPS feature of your phone so that you can see exactly where you are, or let other people know where you are in case you're lost. You can load it with your medical information, or even activate the SOS alarm for dire situations. (The iMobile Care app for iPhone is $1.99.)
Families with phone-equipped children might benefit from the Family Locator monitoring and tracking system. After setting up the software on your child's phone, you receive text-message notifications about a change in location, or you can view your child's location on Google Maps. This setup gives you slightly more parental security than Google Latitude does, and also prevents a child from disabling the service at will. (The Family Locator app for Android is $9.99.)
Privacy and Protection
Though mobile location-based services are for the most part fun and helpful, sharing your location can pose a threat if the information gets into the wrong hands. All of the aforementioned services offer customizable privacy settings to give you more control over what you share and who you share it with. Be wary of using these services from your own home, and think twice before making the cute girl or guy you met at the bar your friend on Loopt.