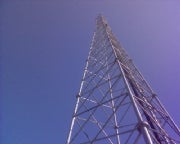 We've all been stuck somewhere where there's absolutely no cell signal. Scientists from Flinders University may have the solution to this vexing problem: Build a mini W-iFi network among cellphones to carry the call.
According to a Geek With Laptop report, scientists at the Australian university have developed a built-in tower for mobile devices that they hope will someday be built into all mobile phones. The solution is simple; the tower will connect with other phones and build a Wi-Fi network that would carry signals from phone to phone for the phone call.
The lead of the project, Dr. Paul Gardiner-Stephen, recently took the technology to the remote Australian outback where there was absolutely no signal and the researcher says that the tests were successful. Dr. Gardiner-Stephen thinks that, one day, this technology could be used as a backup for when typical cell networks fail in the event of a disaster. This would be beneficial during floods, forest fires, or even terrorist attacks, or anything that may limit connectivity.
Unfortunately the mini-tower is currently only capable of transmitting for a few hundred yards, but the scientists hope to increase the range in the future. Another wonderful and potential benefit to the built in tower is that it may even replace the need for a phone service; if the phones are connected all by their own network, why pay that hefty monthly bill? I don't know about you, but I sure hope that the built in tower gets here soon!
[Via Geek With Laptop / Photo: Kalleboo on Flickr; used under Creative Commons license]
Like this? You may also enjoy…