Is there really a problem with the iPhone 4 antenna? Apple is about to answer this question Friday, at a hastily announced press conference at its Cupertino campus. Meanwhile, millions of iPhone 4 customers (and tech pundits) are playing the guessing game running up to Friday's event. What does Apple have to say about the antenna issue and what will it do – if anything?
First off, a quick recap: evidence to date is not helping Apple. From users, to tech media, and the independent Consumer Reports said that something is wrong. Some iPhone 4 owners have complained of being stuck in iPhone 4 hell saddled with multiple iPhone 4 problems. Steve Jobs is now being directly implicated in iPhone 4 antenna-gate and Sen. Charles Schumer (D-New York) has penned a letter asking Jobs to personally solve the problem. Schumer is calling Apple's current software fix "insufficient."
So what could Apple do to solve the problem? Here are some educated guesses tech pundits have put forward ahead of tomorrow's event:
The iPhone Is Selling Very Well
The first thing we are going to hear tomorrow is probably how well the iPhone 4 is selling. 1.7 million devices in the first three days, so expect at least two million iPhone 4s sold to date.
Acknowledge The Problem
"Apple will undoubtedly acknowledge that holding the iPhone 4 does affect the signal. But they'll note once again that this is true of all cellphones," predicts TechCrunch's MG Siegler. Apple said all smartphones experience signal drops when held in a certain way (some call it the 'death grip'), and reports say that many now have better reception with the iPhone 4 than they did with previous iterations of the device.
Bumper Cases Won't Make The Cut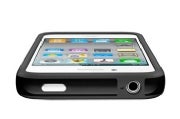 If Apple's solution to the iPhone 4 antenna woes will be to give away $29-worth bumper cases to all customers, it would cost the company over $51 million just to cover the initial batch of 1.7 million iPhone 4's sold in the first three days of availability (figure at market value, as Bumper Cases are said to cost Apple $1).
The iPhone 4, when used with one of Apple's bumper cases (which surround the sides of the phone) fixes the antenna issue, Consumer Reports confirmed. However, MacObserver notes that the bumper cases would be incompatible with the iPhone 4 dock, and also won't fit in third-party cases, thus not an ideal solution.
iOS 4.1 Is Just Software Fix
Another road Apple could take is to flaunt the iOS 4.0.1, which addresses the way signal bars are displayed in the top-left corner of all iPhones. Those pinning their hopes that the OS update would fix the antenna issue will be disappointed to hear that the first reports indicate iOS 4.0.1 does not fix the 'death grip'.
A Recall Would Be Too Costly
Apple would lose even more money if it will have to recall all iPhone 4s sold to date. One analyst estimated that this would cost the company around $1.5 billion, a sum that would increase by $200 million per each ongoing week of sales. Another analyst quoted by Reuters said she expects Apple to quickly move past this issue, as a recall is not on the table.
Non-conductive Coating Over Antenna
One of the most probable scenarios is that Apple is already rolling off the assembly lines in China a new iPhone 4 batch that has a special non-conductive coating over the metal band around the phone, which in theory would solve the 'death grip' issues.
Steve Cheneyis over at TechCrunch argues that Apple and its suppliers have the skills to make quick modification to apply the extra coating layer. MacObserver also notes that Apple could set up a free exchange program for those who wish to swap their device with an iPhone 4 with the new coating.
Boom! One More Thing
"Sounds crazy, I know, but I think something big, or at least biggish, is going down tomorrow," writes Darin Fireball's John Gruber. He has a hunch that Apple will come up with something special in addition to a resolution to the iPhone 4 antenna problem.
How do you think Apple will solve the iPhone 4 antenna issue? Sound off with your predictions in the comments.