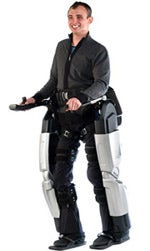 New Zealand firm Rex Bionics has been working on an admirable tech-savvy way to enable wheelchair users to walk again.
Rex's potentially life-changing solution, known as the Rex, is a robotic exoskeleton of sorts, and is the end result of seven years of development. The new technology aims to offer wheelchair users a way to walk once more, thanks to the help of robotic legs.
Rex Bionics detailed that once a wheelchair user transfers to the Rex and is secure, they can control their own movements due to an attached control pad and joystick, even allowing the user to walk up stairs. All of this heavy-duty movement is powered by a long-life and lightweight rechargeable battery, which is said to be designed and ready for a typical days use.
The technology was created by two engineers, both of which have family members who are wheelchair users, and after seven years of work the device has now been given a trial from one wheelchair user who was told he would never walk again. See the video below for more about his experience:
This impressive development comes with a hefty price-tag, with an expected retail cost of around $150,000. Due to the steep price Rex Bionics pointed out that the freedom, social, health and general lifestyle benefits this development can offer wheelchair users is one that will require an individual assessment.
The Rex is expected to be available in New Zealand before the end of the year, with an international launch due sometime in 2011.
[Via NZ Herald]
For more Geek Tech updates follow Chris Brandrick and GeekTech on Twitter.