As operating system upgrades go, Apple's iOS 3.2.1 patch for the iPad may not break new ground, but it does fix a few nagging problems, most notably a Wi-Fi connectivity issue reported by many iPad users.
The update also adds Microsoft's Bing as an option for Safari's search field, although Google Search remains the default choice. According to the Apple Support site, iOS 3.2.1 also fixes:
· A glitch that could prevent a copy/paste of single-page PDF attachments in Mail
· A bug that could cause video playback to freeze
· Reliability of video-out when using the iPad Dock Connector to VGA Adapter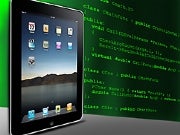 The star (if there is one) of iPad OS update is the wireless patch. Apple's iOS 3.2.1 announcement simply says the update delivers "Improved Wi-Fi connectivity," but doesn't go into any detail.
Soon after the first iPads shipped, many users began griping about weak Wi-Fi signals, slow downloads, and dropped connections.
The Bing announcement is yet another sign of Apple's troubled relationship with Google, although the extra search tool is certainly good news for iPad users. (Even if you're not a regular Bing user, another Web-query choice can't hurt.) Apple in June announced that Bing would be a secondary search option on the iPhone, so the Bing-iPad marriage is not unexpected.
The iPad iOS 3.2.1 update is available via iTunes. Apple has additional details here.
Contact Jeff Bertolucci via Twitter http://twitter.com/jbertolucci or at jbertolucci.blogspot.com.
iPad with Wi-Fi + 3G 16GB