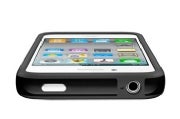 Apple made no apologies for the iPhone 4's reception issues in a hastily-summoned press conference Friday. Instead of expressing regret, the company offered free bumper cases and full refunds to anyone who's not satisfied, and basically accused the press of unfairly pouncing on Apple's newest product.
Notably, Apple chief executive Steve Jobs said the issue was "blown so out of proportion, it's incredible." He blasted a report from Bloomberg that said Apple knew the iPhone 4's signal would fade when held over its lower left-hand corner, calling the story "a total crock." He said a New York Times article that blamed software was "patently untrue." And without mentioning Gizmodo by name, he suggested that one blog began posting videos of the iPhone 4's antenna woes because it had an ax to grind. (Gizmodo purchased an iPhone 4 prototype in April from someone who found it at a bar, and now faces legal troubles at Apple's behest.)
Is Media Being Fair?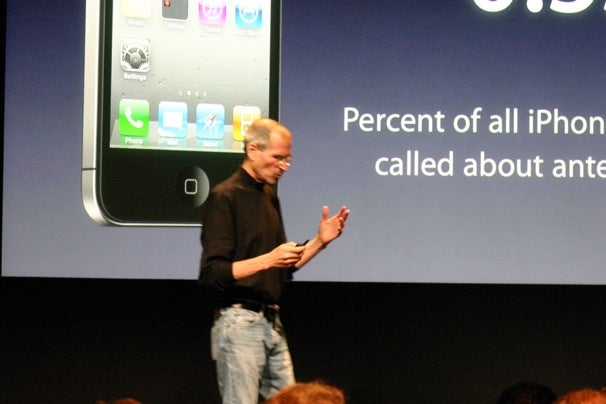 Hearing all of this, I pondered whether the media did go too far, and whether the iPhone 4 antenna issue is really a "non-issue," as Jobs once said. On one hand, the iPhone 4 gets better overall reception than its predecessors. Problems only arise when you head into areas with poor wireless coverage, where a drop in signal can mean a dropped call. And as Jobs pointed out, the iPhone 4's return rate is 1.7 percent compared to 6 percent for the iPhone 3GS, suggesting that iPhone owners are happier than ever.
On the other hand, you also have to take what Jobs said with a grain of salt. He confessed that the iPhone 4 was dropping more calls than the iPhone 3GS — less than one out of 100 more, but I don't buy his theory that fewer calls dropped on the 3GS because people were already using their old 3G cases; if that was true, why not compare iPhone 3G dropped call to test that theory? Besides, the iPhone 4's antenna problems occur mostly in areas with poor coverage, so the dropped call rate depends largely on where you are, rendering aggregate data irrelevant.
Return iPhone for Palm Pre Plus?
Also, I don't place much stock in the iPhone 4's low rate of returns. If you're an AT&T customer, your other options are limited. Personally, I'd rather deal with the iPhone 4's problems than take a Palm Pre Plus or Motorola Backflip. That doesn't mean the iPhone 4 death grip is a non-issue, it just means the issue can be overlooked in favor of other factors. And Consumer Reports disagrees.
Ultimately, Apple did the expected by offering free bumper cases to all iPhone 4 owners, and delivering the news with a tablespoon of scorn for the people who were reporting it. That won't pacify people who don't like using cases, especially because Jobs said no one in the industry has solved the problems the iPhone 4 is having. But it will probably give Apple a bit of breathing room until a better solution becomes available.