Apple CEO Steve Jobs took the stage yesterday to answer the burning questions regarding the iPhone 4 death grip. Apple addressed most of the questions, stressing that the media has massively overblown the issue.
To see how it all went down, the timeline below should give you the full picture.
June 24: Apple Launches iPhone 4
The iPhone 4 goes on sale, and as usual, hundreds queued outside Apple stores across the world to get their hands on the hot new phone.
A list of vide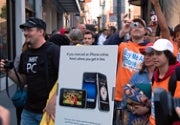 os compiled by Gizmodo shows the iPhone 4 loses reception when held by the antenna band. Users on the MacRumors forums reporte similar behavior with their devices.
When contacted about the issue by Engadget, Steve Jobs and Apple reply that you simply shouldn't hold the iPhone 4 in such a way that alters the reception.
June 25: Software Fix Could Solve Woes
AppleInsider reports that a software fix in iOS 4.0.1 would solve the death grip.
June 28: Apple Sells 1.7 Million iPhone 4s
Apple announces that it has sold more than 1.7 million iPhone 4s in just three days of availability, making the device its most successful product launch to date.
Nokia meanwhile takes a stab at the iPhone 4 death grip on its corporate blog.
June 30: Motorola Droid X Has a Laugh
Motorola and Verizon poke more fun at the iPhone 4 antenna problem, hoping to bump sales of the Droid X. The companies run a full-page ad in the New York Times saying the Droid X's antenna is "the kind that allows you to hold the phone any way you like and use it just about anywhere to make crystal clear calls."
July 2: Letter to iPhone 4 Users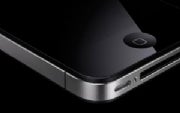 Apple releases an open letter acknowledging a problem with the way all iPhones display signal bars, and promising a software update to address the issue in a few weeks.
Antenna experts chime in, mostly agreeing with Apple's view that the issue is exaggerated, while Apple's own bumper cases can help attenuate the death grip.
July 12: Consumer Reports Throws iPhone 4 Under the Bus
Consumer Reports confirms the iPhone 4 antenna problems and says that it cannot recommend the device because of it.
July 14: Round Two from Consumer Reports
Consumer reports reiterates in a blog post that the iPhone-maker is obliged to "offer a product that works consistently and reliably out of the box."
Apple schedules a last-minute press briefing for July 16. The topic: iPhone 4 antenna. Talk of a possible iPhone 4 recall also gains momentum.
July 15: The Day Before
Scenarios and predictions of how the Apple press conference will pan out include free bumpers, a recall, or a new iPhone with a special coating to attenuat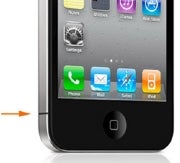 e the death grip.
New York Senator Charles Schumer writes a letter to Steve Jobs asking for answers, and Bloomberg reports that Apple was warned in advance of the death grip (Apple denies this).
iOS 4.0.1 arrives, fixing the signal bars display issue, but not the death grip.
July 16: Apple Faces the Music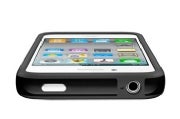 Steve Jobs takes the stage at Apple's Cupertino campus to address Antennagate.
As expected, he announces Apple sold 3 million iPhone 4s to date.
Here are the biggest points from Jobs' press call (watch the whole conference here):
Death grip is a common problem with other smartphones (demonstrated with a Droid Eris, Samsung Omnia 2 and a BlackBerry Bold).
iPhone 4 drops less than one call per hundred (more than the 3GS).
0.55 percent of iPhone 4 AppleCare calls complaine about antenna or reception.
iPhone 4 return rates 1.7 percent; iPhone 3GS 6 percent.
20 percent of iPhone 4 customers leave store with a case (vs. 80 percent for 3GS), due to new design and not enough cases.
Free bumper cases for every iPhone 4 customer (until September 30).
White iPhone 4 arrives end of July.
Proximity sensor problems fix in the works.