So my dad was griping that his Acer Aspire 9300 laptop takes forever to boot. I inspected it for spyware, excessive startup programs, and the other usual suspects, but everything checked out.
Then I remembered that the machine is about three years old and wasn't a powerhouse to begin with. So I checked the RAM. Bingo: it has only 1GB. Windows Vista needs at least 2GB to run smoothly. (So does Windows 7, but I've seen it run reasonably well on less.)
Upgrading a laptop's RAM may sound like a big deal, but it's actually the single easiest upgrade there is. The only challenge lies in determining how many RAM modules your system currently has and what kind they are.
To find out, turn off your system, unplug it, remove the battery, and flip it over. You should see at least one panel that can be removed with a small screwdriver. Consult your manual if you can't find the one covering the RAM sockets–or just open them all. Here's what you're looking for: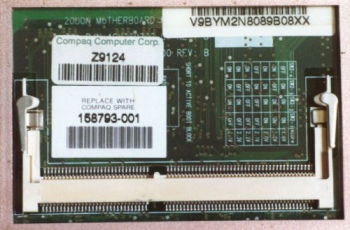 Most laptops have two sockets. If only one is occupied, just buy a module that exactly matches the existing one and drop it in. That'll effectively double your RAM.
If both sockets are filled, you'll have to replace both modules. In the case of Dad's Aspire, for example, it had a pair of 512MB modules for a total of 1GB of RAM. We elected to replace them with a pair of 1GB modules for 2GB total. (What to do with the displaced RAM? Ebay, of course!)
Not sure what kind of memory your laptop takes? Head to a site like Crucial, which can identify nearly every make and model. (Of course, once you know what you need, you can shop around to find the best price.)
There are countless how-to guides online that can help you further. I just wanted to let you know that if your laptop seems sluggish, it may be because it needs more RAM. Thankfully, it's a cheap and easy upgrade.
Image by _sarchi.
When you purchase through links in our articles, we may earn a small commission. This doesn't affect our editorial independence.