In the latest installment of Seagate's GoFlex series of portable and desktop hard drives, Seagate today introduced the GoFlex Home network-connected drive. Available in 1TB ($160) and 2TB ($229) capacities, the drive works with Windows and Mac systems.
Seagate expects the 1TB to street for $139, which puts it at about $40 more than the non-networked 1TB GoFlex.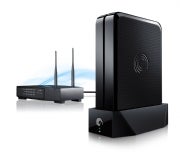 As far as network storage goes, the GoFlex Home keeps things simple: The device is a single drive, not multi-bay enclosure, and as such, it lacks the complexities of RAID levels for redundant protection.
Instead, the GoFlex Home offers a simple, straightforward approach to sharing a hard drive across a home network. Seagate focuses on software, and easy installation, with upsell options for more advanced users (for example, it comes with support for file/folder back of up to three PCs, and sharing content with up to five users; for more of either, or for access via your smartphone, you'll have to pay more). The unit has gigabit ethernet, is DLNA compliant, and supports ftp, Time Machine, and iTunes server.
Like other products in the GoFlex series, the GoFlex Home features a modular 3.5-inch external hard drive.