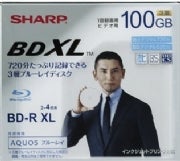 Sharp recently announced that it will be the first Blu-ray disc maker to launch a recordable triple layer Blu-ray format with 100GB of storage capacity–twice the capacity of current Blu-ray discs.
The new write-once disc can store up to 12 hours of regular digital TV broadcasts or nearly nine hours of digital satellite broadcasts, according to Sharp. There is no word on pricing, but numerous reports say the BDXL discs could cost somewhere between $55 and $60 at launch. Sharp's VR-100BR1 Blu-ray disc will be available in Japan on July 30, and Sharp has yet to announce a U.S. launch date.
BDXL
The VR-100BR1 conforms to the new BDXL format specifications introduced by the Blu-ray Disc Association in April. The BDXL format allows for a maximum 128GB of write-once capability for Blu-ray discs and can support up to 100GB of Blu-ray data in rewritable disc format. (Click on the chart to enlarge it to see how the format works.)

The key to the new Blu-ray specification is the addition of more recordable layers, which are essentially the recording space a Blu-ray disc has. The more layers you've got, the more recording capacity. The BDXL specification allows for three to four recordable layers, while current 50GB Blu-ray discs have just two recordable layers.
To record and play BDXL discs you'll need new hardware, but BDXL specs allow for manufacturers to introduce machines that are backward compatible with older Blu-ray formats. Sharp plans to release in Japan two new Aquos Blu-ray recorders alongside its new 100GB disc.
A Long Time Coming
The quest to produce commercially available 100GB discs has been going on for quite some time. In 2002, researchers at the National Taiwan University announced they had developed a 100GB prototype disc that was compatible with contemporary CD and DVD technology. It was expected that 100GB discs would be available by 2004. Two years later, Sony announced it had developed an eight-layer Blu-ray disc capable of storing 200GB of data. At the time, Sony had planned to introduce a commercial four-layer 100GB version by 2007, but that never materialized.
In 2005, TDK announced a four-layer 100GB Blu-ray disc, and also hoped to introduce the new format by 2007. It wasn't until mid-2010, however, that we finally saw a commercially available 100GB recordable Blu-ray disc.
Sharp may be the first out of the gate with BDXL disc, but it shouldn't be too long until rewritable 100GB and write-once 128GB BDXL discs become available.
Connect with Ian on Twitter (@ianpaul).