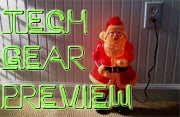 New York hasn't been able to shake off a long-running heat wave, but the technology displayed at a recent Holiday Gift Guide Media Event in the city offered journalists a peek at some cool high-tech hopefuls that may catch the eye of the buying public come the winter-holiday shopping season. Though many of the products on show are available now, others are still months away from endangering your credit card. The event was organized by AdVance Public Relations and Gift List Media.
Following are some of the most interesting products spotted at the holiday-gear preview. For a slideshow summary of the products here, see "Sneak Peek at Hot High-Tech Gadgets for the 2010 Holiday Season."
Verbatim Wallet Drive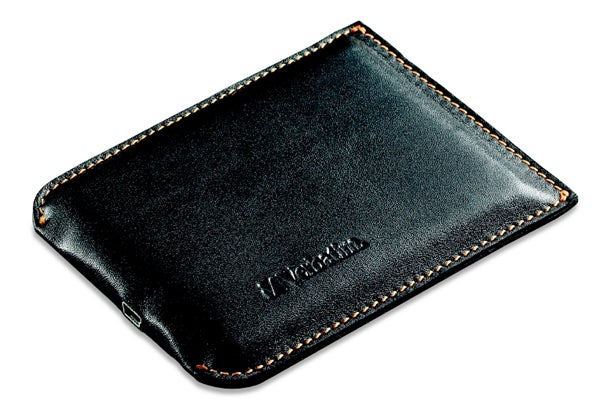 Portable hard drives are usually dull devices, and would hardly pass as conversation starters. Verbatim's stylish Wallet Drive, with its stitched leather casing, just might turn some heads. With only a small socket for a USB cable giving away its true identity, the Wallet Drive, available in August for about $130 for a 500GB model, offers a professional, subdued look that would be at home on the desk of a busy executive. A 640GB version is also in the works, according to Verbatim. Included with the Wallet Drive is Turbo USB software, as well as Nero BackItUp & Burn software.
General Electric Power X5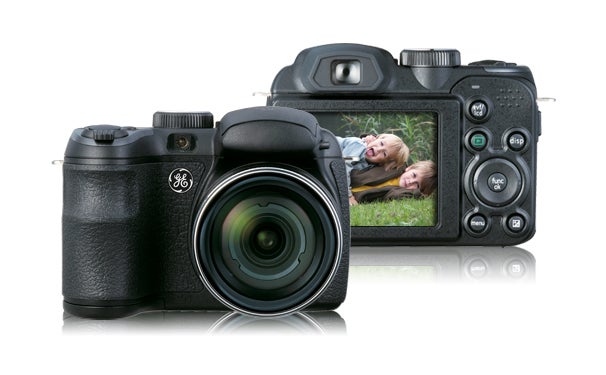 General Electric may not come to mind when you think of digital photography, but that could change. GE, which just got out of the television network business, is doubling down on cameras. The company is introducing a line of affordable digital cameras, including the professional-looking, 14-megapixel Power Pro X5. (The GE cameras are made by General Imaging, which licenses the General Electric name and logo.) The X5 comes with a 15X-optical-zoom lens, a 2.7-inch rear LCD screen, a top shutter speed of 1/2000 second, image-stabilization technology, and ISO sensitivity ratings up to 3200–yet it retails for just $180.
The camera's 5.7X digital zoom increases the maximum effective zoom to 85.5X; the X5 also supports smile, face, and blink detection, all of which can come in handy for candid shots. Equipped with a pop-up flash, it can capture video too, but only up to 640 by 480 pixels (a long way from HD quality). In addition to offering 18MB of internal memory, the camera accepts SD or SDHC cards up to 16GB.
Energizer Recharge Smart Charger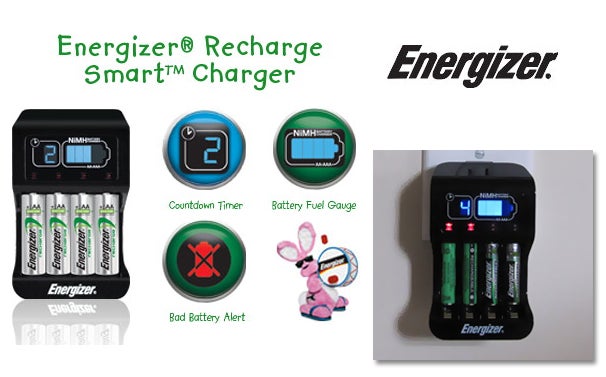 Battery chargers can be frustrating devices with their uninformative blinking or steady lights; usually chargers don't give enough feedback for you to know how much power your batteries contain should you yank them out before the charging cycle has completed.
The $20 Energizer Smart Charger comes with a digital countdown timer as well as a fuel gauge so that you can tell whether you have enough juice to get through dinner at grandma's house or just enough for the first course. The unit charges two or four AA or AAA nickel hydride batteries, and comes with four 2300mAh AA batteries. The charger is not particularly fast, however, requiring 8 hours to charge four batteries. The flip side of such slow charging is that the batteries last longer, accepting as many as 600 charging cycles, according to Energizer.
Kyocera Zio M6000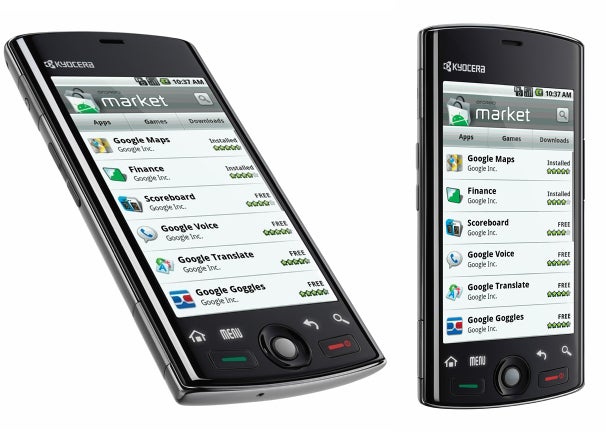 Flying somewhat under the radar given the plethora of muscle-bound Android cell phones recently announced is the mild-mannered Kyocera Zio M6000, a light CDMA2000 handset with a bright display that's aimed at the first-time smartphone user. The handset has a 3.5-inch display, a 3.2-megapixel camera, a trackball, and support for stereo Bluetooth devices. It's just under half an inch thick, and at 3.7 ounces it's lighter than larger and more sophisticated Android phones such as the Motorola Droid X (5.5 ounces). The phone offers 6 hours of talk time and up to 18 days of standby time. So far only Cricket, a no-contract, no-phone-subsidy carrier, has announced that it will sell the Zio M6000 (no pricing announced yet), but more carriers are in the works, says a Kyocera representative.
Oregon Scientific ATC9K All-Terrain Video Camera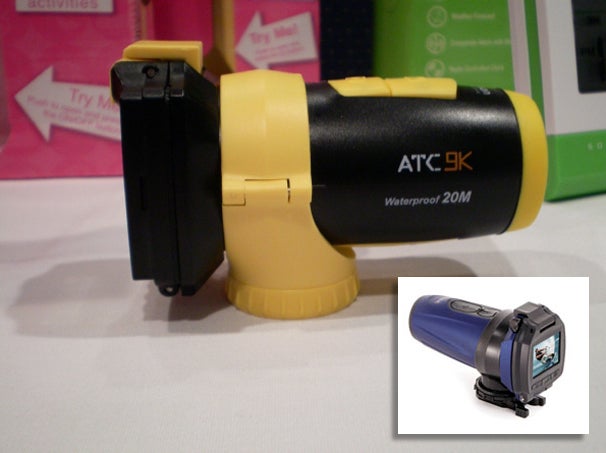 Appropriate for people who don't mind getting black and blue in the great outdoors, the black and yellow ATC9K All-Terrain high-definition video camera from Oregon Scientific is a durable, shock-and-weather-resistant unit made to be strapped to a helmet, a surfboard, a bicycle handlebar, or another unsteady perch while you go about your activities. The G-Sensor captures measurements for speed, hang time, angle of movement, and other statistics, allowing users to fully retrace their movements. The $300 camera can capture 5-megapixel still images as well as 1080p HD video. Included is a remote control, along with a laser pointer to help align the camera with what you want to shoot. A $70 GPS module (available in August) permits you to capture and map your movements on Google Maps or Google Earth.
Omron Gosmart Pocket Pedometer HJ-203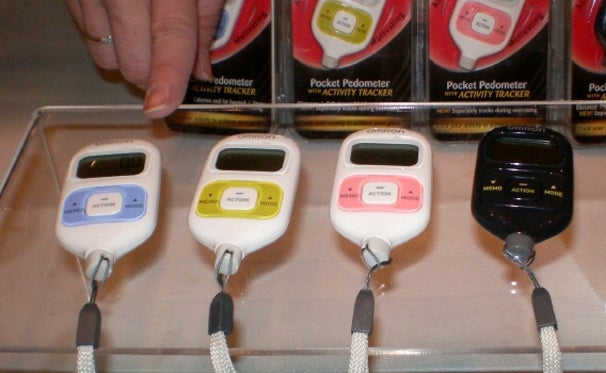 If you're brave enough to walk away from your tech toys for some exercise now and then, you can still take a little tech with you in the form of Omron's lightweight Gosmart Pocket Pedometer. (The models featured here are the HJ-200 series.) Each $35 unit counts strides, measures distance, estimates calories burned, and can store up to seven days' worth of information. The Activity Tracker feature can monitor a specific exercise for a set time. The pedometer is available in purple, yellow, pink, and black.
Energizer Inductive Charger
The wave of the future may be wire-free inductive device charging. The Energizer Inductive Charger, available in October for $89, can wirelessly charge two devices at once and supports Qi, a new standard for wireless charging. The unit can charge an Apple iPhone 3G or 3GS and, with an additional sleeve or door accessory, a RIM BlackBerry Curve 8900 series handset. No magnets are involved–you can place devices anywhere on the flat panel. The device offers a USB port for wired charging, as well.
Phiaton Noise Cancelling Earphones PS 20 NC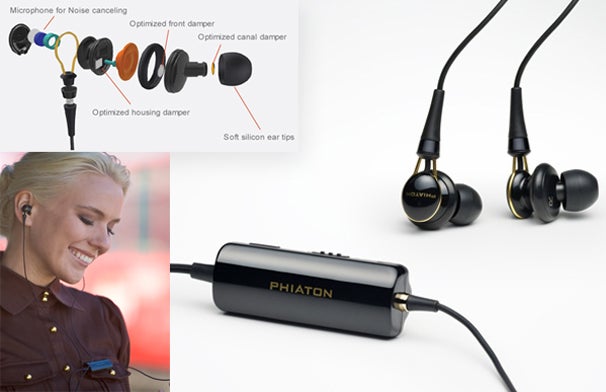 City dwellers and commuters who are familiar with the concept of ambient noise may appreciate the Phiaton Noise Cancelling Earphones PS 20 NC for its effectiveness and its light weight. The in-ear headset uses the company's proprietary Noise Blocker technology to maximize the quality of the music coming from an MP3 player while minimizing interference from extraneous noises. The headset has multiple physical noise dampers in addition to the electronic noise cancelling technology. It uses a single AAA battery, has a frequency range of 15Hz to 22,000Hz, comes with an inline volume control and a choice of silicone earbuds, and weighs just 1.15 ounces.