The blogosphere and online message boards have been buzzing with speculation as to why blogging website Blogetery.com, which claims to have hosted more than 70,000 bloggers, was suddenly shut down last week.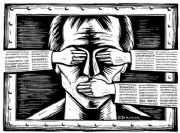 Was the site a haven for terrorists? Packed with how-to advice for bomb builders? Rife with child porn? And did the FBI really order the blogging site's host BurstNET to pull the plug?
BurstNET officials on Monday attempted to set the record straight by issuing the following statement:
"On the evening of July 9, 2010, BurstNET received a notice of a critical nature from law enforcement officials, and was asked to provide information regarding ownership of the server hosting Blogetery.com. It was revealed that a link to terrorist material, including bomb-making instructions and an al-Qaeda 'hit list', had been posted to the site. Upon review, BurstNET determined that the posted material, in addition to potentially inciting dangerous activities, specifically violated the BurstNET Acceptable Use Policy. This policy strictly prohibits the posting of 'terrorist propaganda, racist material, or bomb/weapon instructions'. Due to this violation and the fact that the site had a history of previous abuse, BurstNET elected to immediately disable the system."
So it appears that terrorist activity, including a "hit list," were key factors that led to Blogetry.com's shutdown, as well as the fact that the service had previously violated BurstNET's usage policy.
That explanation probably won't wash with numerous online commentators who've speculated that the Blogetery.com shutdown was part of a government plot to stifle free speech and control the Internet.
"It is beginning. The govt. control of the internet has begun. With out due explanation or reasons given other than 'a history of abuse'. How far away is ToL from their crossfire?" wrote user "Pikman" in a discussion forum on survivalist-friendly The Tree of Liberty site.
So what's the real reason that Blogetry.com got the boot? Conspiracy theorists, lets your voices be heard.