Earthbru asked the Windows forum how to stop accidental zooming in Firefox. I cover intentional zooming, as well.
Did you know that you can zoom into a page in Firefox to see more detail? Or zoom out to see more of the page?
It's easy. To zoom in, hold down CTRL while you either press plus (+) or rotate the mouse wheel up. To zoom out, hold down CTRL while you either press the hyphen (–) or rotate the mouse wheel down. To restore the normal size, press CTRL-0 (that's zero, not capital O).
That's all very cool, except if you keep hitting those key combinations by mistake. Then you might want to turn that feature off. There's no simple toggle switch to disable zooming, but there is a workaround. My thanks to forum regular AgentF for introducing this trick to me in the original forum discussion.
The workaround involves editing Firefox's preferences file, so you should backup that file, first. See Back Up Firefox's "Registry" before you follow the instructions below.
In Firefox, click the address bar (pressing CTRL-L won't work in this situation), type about:config, and press ENTER. When warned, click I'll be careful, I promise! (Yup, that's the real option.)
You'll get a page with a list of settings. Near the top of that page is a field labeled Filter. Type zoom into that field.
That will reduce the list of settings to a handful. We're concerned with two of these: zoom.maxPercent and zoom.minPercent.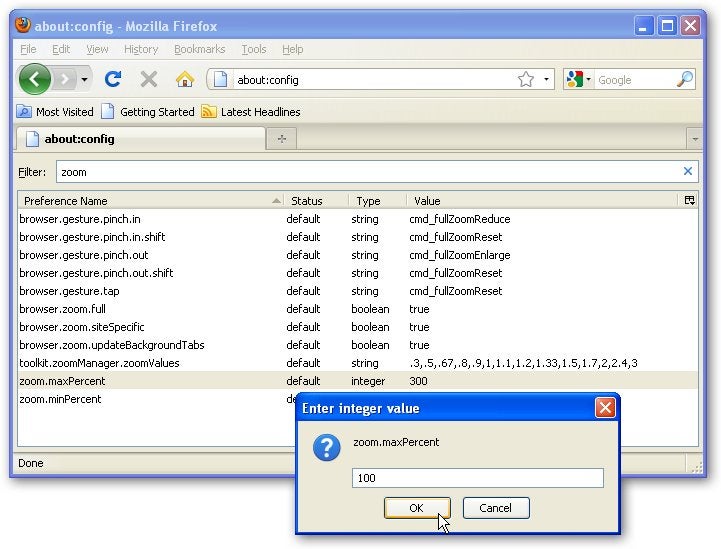 As you can probably guess, these put limits on how far you can zoom the page. The default settings of 300 and 30 mean you can't zoom in to more than 300 percent of the page's actual size, and can't zoom out to less than 30 percent.
You can probably guess what we do next. That's right–set both to 100 to effectively block zooming. Double-click the settings to change them.
You'll have to close and reopen Firefox to see the results.
Add your comments to this article below. If you have other tech questions, email them to me at answer@pcworld.com, or post them to a community of helpful folks on the PCW Answer Line forum.