Pancho asked the Desktops forum how to print a list of all the programs that come up when you boot Windows.
You can do this with a program I've recommended before, CCleaner. If you prefer a program that doesn't need to be installed, the trick also works with CCleaner's portable edition.
But it won't work with all versions of CCleaner. If you already have this very useful utility and find that you can't follow the instructions below, download the latest version.
In CCleaner, click the Tools button on the left, then the Startup button. You'll get a list of all of your startup programs.
To make that list printable,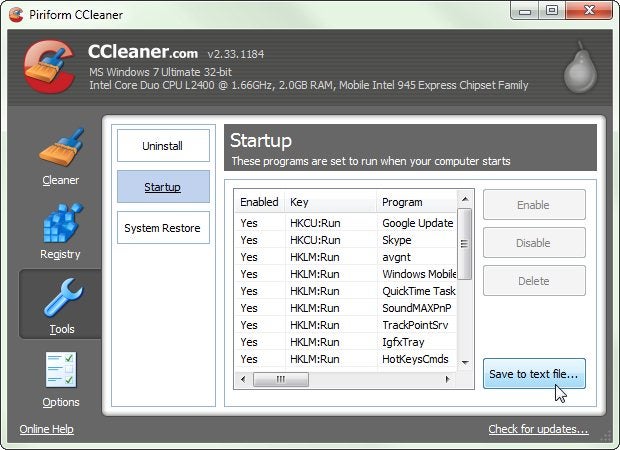 click the Save to text file button in lower-right corner of the CCleaner window. Give the file a name and save it somewhere convenient. Then right-click your new file and select Print.
The resulting printout will likely contain many lines too wide for the page, resulting in hard-to-read, wrapped text. If you don't like that, double-click the file and reformat it for printing.
There are three things you can do to help the lines fit horizontally on the page:
1) Select Format, then Font. Change the font to something leaner than Courier.
2) In same dialog box, change the size to something smaller.
3) Select File, then Print. Click Preferences. Find the option (it varies with your printer driver) to print landscape instead of portrait.
My thanks to Flashorn for his contribution to the original forum discussion.
Add your comments to this article below. If you have other tech questions, email them to me at answer@pcworld.com, or post them to a community of helpful folks on the PCW Answer Line forum.