Years in the making, LongBox Digital (free application, various pricing for content) is the brainchild of comic book writer and artist Rantz Hoseley. Teaming up with Quicksilver Software to create LongBox, Inc., they set out to garner publisher support and create what they hoped would become the iTunes of comic books. With LongBox Digital, they appear to have succeeded.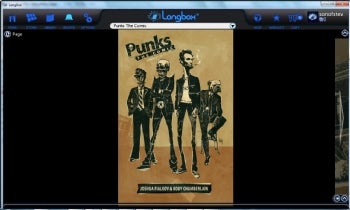 In an environment that recalls both iTunes and the Xbox 360 user interface, LongBox Digital users can navigate easily between purchased comics, the LongBox Digital storefront, pending downloads, and even comics news from Web site Comic Book Resources. The proof of the pudding, though, is the actual reading experience.
Though not as light as other digital comics readers, such as the bare-bones CDisplayEX, LongBox Digital can easily be manipulated with a few clicks or keyboard shortcuts. In the default interface, the current page is at the center of the screen, with arrows on the right and left side. Pages are turned with the arrow keys or by clicking the arrow button. Since laptops, for example, have screens too small to read comics, clicking the Zoom button in the upper left allows you to set a default Zoom. My favorite is Page Zoom, which fits to width and lets you scroll up and down. There's also Standard Zoom, which lets you dynamically resize, and Sequential Panel Zoom, which automatically scrolls between panels. Thereafter, hitting Control-Z will toggle between standard view and your chosen default zoom. The ideal setup is a decent-sized LCD monitor that can rotate on its side easily: that way, a whole page can be viewed full screen.
The LongBox Digital storefront includes numerous free preview comics. There's also a ton of paid content from publishers such as from publishers such as Archaia, Image, Digital Webbing, NBM, Top Cow, and more. Two hundred comics are rolling out within weeks of launch with more on the way. (New comics arrive on Fridays.) In addition, several known creators are bringing original projects direct to LongBox Digital. The Big Two, Marvel and DC, haven't signed on just yet–but it may be just a matter of time.
It's also possible to import comic book content you already own in the popular CBR and CBZ formats. These imported files don't have all the metadata that LongBox LBX files do (creator information, copyrights, storylines, and so on), and it's not possible to convert back and forth between CBR/CBZ and LBX. Therefore, it's a little difficult to sort and integrate with native LongBox content, but at least you can get your whole collection into the same place.
Whether LongBox Digital is digital comics' killer app remains to be seen: It faces stiff competition on the PC from the Flash-based ComiXology on the Web, which has a major foothold on tablet and smartphone devices, as well as Marvel & DC support, but lacks the advantage of being a desktop app. LongBox, Inc. is developing mobile and videogame console support that will allow a user to buy in on one device and read anywhere (as you can currently do between the PC and Mac versions). In the meantime, for an application-based, Web-independent digital comics solution, LongBox Digital can't be beat.
Note: LongBox Digital is free, and numerous free preview comics are available for download. ComicBlocks can be purchased for use when buying paid content, with one ComicBlock equal to $1. Most comics cost 1 ComicBlock; collected editions of multiple comics cost more. The optional $20 Gold Membership earns the user 10% free ComicBlocks at the end of the year based on all purchases made that year, plus early access to content, discounts and specials. When purchased before Sept. 1, 2010, the Gold Membership lasts for life; otherwise, it renews once a year.
Special Note: When downloading LongBox Digital from PCWorld.com through Aug. 24, 2010, registered users will automatically receive two ComicBlocks free.