Here's a head-scratcher for you: a recent survey conducted by the American Customer Satisfaction Index (ACSI) determined that Facebook scores alongside airlines, cable companies and — wait for it — filing taxes online in terms of customer satisfaction. That means the Web's most popular site, with half a billion users, is also the scourge of our existence. What?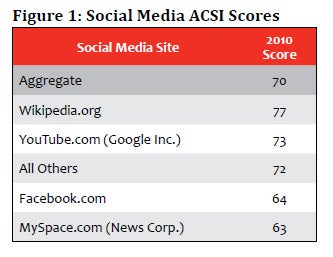 Let's take a look at the ACSI's data and see why Americans apparently hate spending 7 hours per month on Facebook.
Facebook, in Comparison
So Facebook scored in the bottom 5 percent of all private sector companies — the same range as the IRS tax e-filing system, airlines and cable companies. How did other sites do? The scale is 0 to 100, with 0 being the worst and 100 being the best.
Twitter was not included this year because most users access the micro-blogging site via third-party apps. It's also worth mentioning that though it is not a social media site, Netflix scored 87 points — proof that Netflix is, in fact, awesomesauce.
I'm having a hard time believing that Facebook is just one point above MySpace. We're talking MySpace, the world's forgotten social networking site.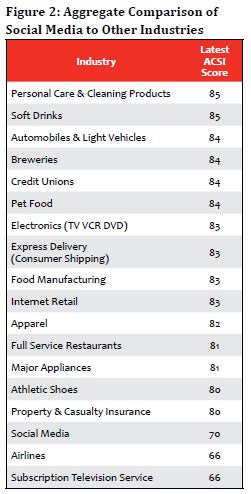 Now take a look at this next chart, which compares social media to other industries:
Looks like Americans enjoy automobiles (a tanking industry), breweries (duh), and pet food more than social media. Yet we spend so much time clicking through status updates and watching cat videos.
Why Are We So Angry?
Does this mean that people are logging into Facebook, fists clenched and shaking with anger? What are we so angry about?
Larry Freed, president and CEO of ForeSee Results, which partnered with ACSI on the e-business survey, sheds some light on the most common complaints. "Our research shows that privacy concerns, frequent changes to the Web site, and commercialization and advertising adversely affect the consumer experience," Freed said.
Makes sense. Facebook did have a hell of a year with privacy complaints, so much so that it had to hold a privacy summit, much like Steve Jobs had to personally break up the Antennagate fiasco. Plus users have never been a fan of the aesthetic changes. As far as advertising goes, well, that's how you run a business. TechCrunch also notes that "information posted by a user's 'friends' about Mafia Wars or Farmville" frustrated users. Don't you know you can hide that stuff from your feed?
Facebook Talks Back
Facebook took this public whipping in stride with a statement given to TechCrunch: "We haven't reviewed the survey methodology in detail, but clearly we have room to improve. Building a simple, useful service is the best way to earn and sustain the trust people put in us. That's why we spend so much of our time and energy focused on improving the products we offer and introducing new ones," a Facebook representative said.
Good News for Google Me?
Facebook's failures might mean good news for its competitors, who gained some cred after Facebook's privacy disaster. The biggest winner may be Google, who is reportedly working on building its own social networking site called Google Me.
"Some will definitely see these ratings as an opportunity to come up with something better that could unseat Facebook. But this wouldn't be an easy task. It's would take a lot of effort and a serious sum of money, plus some inspired marketing too," Dan Olds, an analyst for The Gabriel Consulting Group, told Computerworld.
Manpower? Marketing? Money? Yeah, that sounds like Google, which is worth almost $150 billion.
If Google can crank up the heat on Google Me in a big way, it stands a chance not to beat Facebook (I doubt anything could beat Facebook), but it could become a major thorn in Facebook's side.
The American Customer Satisfaction Index is a national indicator of customer satisfaction with products and services. About 70,000 people are surveyed every year to measure their satisfaction with 225 companies in 45 industries. The Index was founded at the University of Michigan's Ross School of Business.