Verizon's Motorola Droid X is a hot commodity these days. Despite what you may have read, though, the phone isn't too hot to get your hands on — if you know where to look.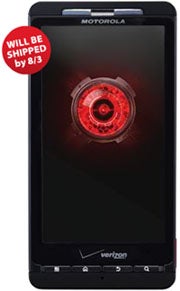 Within a day of the Droid X launch last Thursday, Verizon's online store had to push its shipping date back to July 23 in order to keep up with demand. Now, Verizon appears to be extending that delay: Big Red has just bumped its Droid X shipping date to August 3 for all orders placed online. Verizon Wireless locations around the country are reporting the same availability date for in-store purchases. Best Buy, meanwhile, is currently sold out of the device altogether.
So what to do if you want to get the Droid X without waiting? As of the time of this story's publication, Amazon.com lists the Droid X as in stock and available. The phone is priced at $179.99 — about 20 bucks less than you'd pay at either Verizon or Best Buy. The standard two-year contract is required to get that discounted price; if you don't want a contract, you can opt to buy the phone unsubsidized for $569.99.
Online mobile phone retailer Wirefly also lists the Droid X as in stock and available for shipping, though it notes its "quantities are limited and will be shipped on a first-come first-served basis." Wirefly is selling the Droid X for $179.99 with a two-year contract or $579.99 unsubsidized. Both Wirefly and Amazon are offering free standard shipping with any Droid X purchases.
Of course, if you'd rather get your phone directly from Verizon, the delay isn't terribly long. But if you're chomping at the bit and don't want to wait, you have some options — and they'll even end up saving you some cash in the end, too.
JR Raphael is a PCWorld contributing editor and the author of the new Android Power blog. He's on both Twitter and Facebook; come say hello.
When you purchase through links in our articles, we may earn a small commission. This doesn't affect our editorial independence.