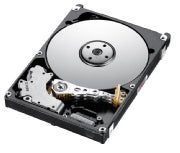 Samsung Tuesday announced its new 1TB Spinpoint MT2 2.5-inch internal hard drive. The new drive is suitable for portable storage like portable external hard drives, or could also be used for anything from future HDTVs, home theater systems, set-top boxes, and some laptops.
The new Spinpoint drive uses 333GB per-platter technology and runs at 5400rpm. It also utilizes Samsung's NoiseGuard technology to reduce unwanted noise, which makes it well-suited for home theater products or other devices that need to run quietly.
Samsung also claims that the Spinpoint MT2 features 20% increased read/write performance and consumes 4% less power consumption compared to similar drives.
And not that you'll ever need it, but Samsung says that the drive also features shock resistance up to 400G for 2ms in operation mode and up to 800G for 1ms when the power is off.
Unfortunately the drive has a non-standard height dimension, so it will only fit into certain laptops, but the drive may be suitable where space is more available like in TVs.