Reader Srinivas is having a problem with Internet Explorer 8:
"Whenever I try to access mail.yahoo.com, the page shows up and immediately IE 8 crashes. It happens with most [other] Web sites, too."
Browser crashes can be tough to troubleshoot–especially when you don't provide information about your PC, operating system, etc. (ahem). That's something everyone should remember when asking for help with system problems: the more details you can provide, the better.
You did mention that these crashes don't happen in Firefox, meaning you already know the smart short-term workaround for any browser problem: try another browser.
Anyway, you've got two likely culprits here: a corrupted add-on or a bad Flash plug-in. I suspect the latter, so let's start with that.
You'll need to uninstall the Flash Player plug-in and its ActiveX component, which you can do with a small utility from Adobe. Reboot after you've run the utility.
Next, close Internet Explorer and reset it to its default settings (which will also remove any problematic add-ons). Here's how (for Vista/7 users):
1. Click Start, type Internet Options, and then press Enter.
2. Click the Advanced tab, and then click the Reset button at the bottom of the window. (Do not check the box marked Delete personal settings.) Click Reset to complete the process.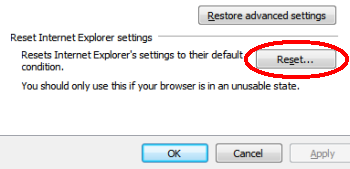 3. Restart Internet Explorer and head to Adobe's Flash Player page. Follow the instructions to install it.
Now try signing into Yahoo (or whatever site was giving you trouble). I'd be very surprised if IE continued to crash. Assuming it doesn't, reinstall any add-ons that you were using–but do so one at a time, checking to make sure everything still works before proceeding to the next one.